Veterans Affairs Medical Malpractice Settlements at the higest in 12 years
$ 91.7 million was paid for more than 400 medical malpractice claims against the Department of Veterans Affairs in 2012. Cases included missed diagnoses, delayed treatment and procedures performed on wrong body parts. The highest settlement which was also the largest in 12 years was for $17.5 million to the family of Christopher Ellison who was left permanently incapacitated after getting teeth extracted at a Veterans Medical Center in Philadelphia.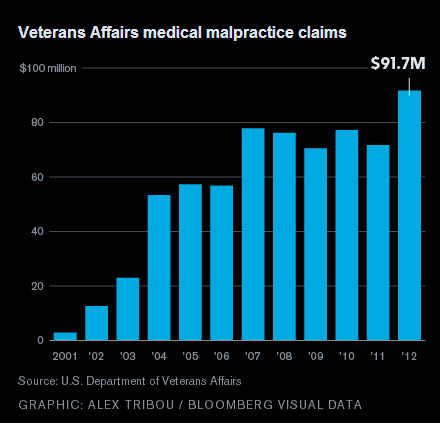 Following the wars in Iraq and Afghanistan the number of veterans taking advantage of VA medical care has risen significantly. Last year, the 152 VA hospitals and 190,000 doctors treated 5.6 million veterans, an increase of more than 30% compared to 10 years ago.
In the next 4 years, 1.2 million soldiers will become veterans. Some of them who fought in Iraq and Afghanistan are suffering post traumatic stress disorder while others survived injuries that would have been fatal during World War II or the Vietnam War.
The young age of the veterans may also be a factor in the increase of settlements for medical malpractice as their life expectancy is longer and payout is often tied to how long the victim will suffer from the malpractice.
Read more at Bloomberg.com