13 students and 2 drivers hospitalized after pick up truck T-bones school bus in Long Island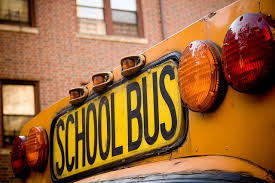 Less than one week after a car crashed into a school bus in Westchester county, a pickup truck collided with a school bus near Meadowbrook Elementary School in East Meadow, LI, yesterday afternoon. The bus was carrying 41 students between the ages of 5 and 11. Thirteen students, as well as the bus driver, were transported to the hospital with minor injuries. The pickup truck driver also sustained minor injuries and was pulled from his vehicle.
All injuries related to the school bus crash were said to be minor, including that of the pickup driver who had to be pulled from his wrecked truck. According to Nassau County Police Commissioner Patrick Ryder, the blue pickup smashed into the bus while making a left turn from a school parking lot around dismissal time. It's not clear what led to the crash, though Ryder said speed and distracted driving were being eyed as possible causes. It is not believed that alcohol played any role. An investigation is ongoing.
Is it safer for parents to drive their children to school?
Despite statistic indicating that 108 people were killed nationwide in school bus crashes in 2021, up 50% compared to the record low of 54 in 2020, school buses remain a safe mode of transportation for children.  According to the National Highway Traffic Safety Administration (NHTSA), school buses are the safest way for students to get to and from school. In fact, children are 70 times more likely to get to school safely on a school bus than if they were driven by their parents in a car.
There are several reasons why school buses are safer than private cars. For one, school buses are designed with safety features such as high seat backs, reinforced sides, and bright flashing lights to warn other drivers to stop when children are getting on and off the bus. Additionally, school bus drivers are highly trained professionals who are required to undergo specialized training in school bus safety.
In contrast, parents who drop off their children at school in their cars are often in a hurry and may be distracted by their other responsibilities. They may not always follow traffic laws or be aware of the presence of children around their vehicles.
It's important to note that while school buses are generally safe, school bus accidents can still occur. When accidents do happen, children on school buses are more likely to be injured than those in cars, due to the lack of seat belts and other restraints. However, despite this increased risk of injury in the event of an accident, overall school buses are still a safe mode of transportations.