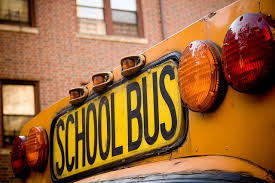 Less than one week after a car crashed into a school bus in Westchester county, a pickup truck collided with a school bus near Meadowbrook Elementary School in East Meadow, LI, yesterday afternoon. The bus was carrying 41 students between the ages of 5 and 11. Thirteen students, as well as the bus driver, were transported to the hospital with minor injuries. The pickup truck driver also sustained minor injuries and was pulled from his vehicle.
All injuries related to the school bus crash were said to be minor, including that of the pickup driver who had to be pulled from his wrecked truck. According to Nassau County Police Commissioner Patrick Ryder, the blue pickup smashed into the bus while making a left turn from a school parking lot around dismissal time. It's not clear what led to the crash, though Ryder said speed and distracted driving were being eyed as possible causes. It is not believed that alcohol played any role. An investigation is ongoing.
Is it safer for parents to drive their children to school?