6 people injured in Manhattan scaffold accident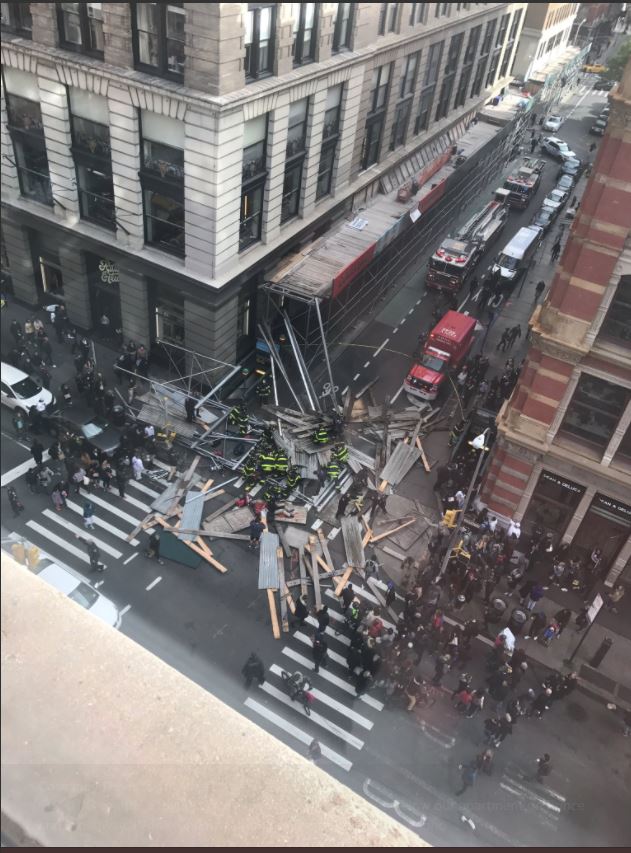 6 people were injured in a scaffold accident in New York on Sunday. The accident occurred at the corner of Prince and Broadway in Soho. The area is a popular tourist shopping and dining destination. It is usually packed with pedestrians all day long.
Soho is also a very windy area of Manhattan. Sunday high gusts of wind that were shooting from the North down Broadway took down a large scaffold located on the sidewalk just at the exit of the subway station. According to the FDNY a large plywood piece on the scaffold acted as a sail and took down the entire structure.
A couple of pedestrians got buried under the pile of metal and wood while other passersby who witnessed the scene ran to the rescue.  People started to frantically move the metal and wood pieces to pull people out of the debris.  Shortly after the firefighters and ambulances were also on the scene of the accident. A woman who suffered critical head injury as well as five other people injured by the debris were rushed to the hospital.
The FDNY confirmed the weather is to blame for the accident. However, the scaffold was erected on the Soho sidewalk almost a year ago and it may have become loose over the months. Investigators will have to find out when the scaffold structure was last inspected.
Almost two years ago, there were an estimated 9000 similar structures on Manhattan sidewalks (see previous blog). Many of these sheds and scaffolds are left without supervision and without being used for months and sometimes years. The reason is often financial. It is cheaper for building owners to pay a fine for the scaffold rather than performing needed facade renovation work. When scaffolds stay up for months and sometimes for years they deteriorate and become dangerous. According to the Department of Buildings, the scaffolding that fell in Soho had been there for almost a year. According to people working nearby, the scaffolding structure was shaking  and "looked like an accident waiting to happen".
Picture: posted by Courtney Davis on her Twitter Account