8th Annual Safety Stand Down to prevent falls in construction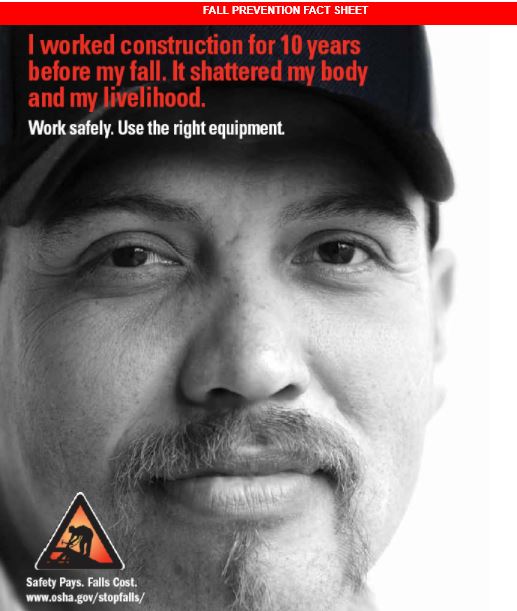 Despite safety regulations and awareness campaigns falls continue to be the number one cause of deaths and injuries among construction workers.  According to the most recent data from the Bureau of Labor and Statistics, among the 1008 construction worker fatalities recorded nationally in 2018, 320 were fall fatalities.
To continue raising awareness about the risks of fall, the Occupational Safety and Health Administration (OSHA) is partnering with multiple construction safety advocates and governmental organizations  such as  the Center for Construction Research and Training (CPWR), the National Construction Safety Executives (NCSE),  the National Occupational Research Agenda (NORA),  the National Institute for Occupational Safety and Health (NIOSH),  the American Society of Safety Professionals (ASSP), the U.S. Navy to educate as many construction workers as possible on fall safety.
Any companies involved in construction can participate in the Stand-Down 2021 and will receive a certificate of participation if they do so
Companies that want to participate are invited to take a break with their employees to discuss fall prevention.  From a simple discussion between employees and management about fall hazards on the job and how to avoid them to toolbox talks or  more hand on approaches such as conducting an inspection of the safety equipment or developing rescue plans, the options are endless.
The OSHA website is also providing Stand-Down organizers with a list of suggestions on how to prepare a successful Stand-Down as well as other resources such as posters in multiple languages, training guides, fall prevention publications, ladder safety guidance, Scaffolding safety guidance, specific educational material for residential construction, roadway work safety, bridge work safety as well as links to stand down material from other safety advocates partnering in the Stand-Down.
While roofers continue to be the most at risk of a fall, falls from ladders and scaffolding are also among the most common in the construction industry and can lead to serious injuries and  deaths. In its resources, OSHA also provides specific safety guidelines for each type of ladder and scaffolding.