Decline of ATV injuries and deaths over the last 10 years
93,800 people were injured in an ATV accident and treated in a hospital in 2017 compared to 150,900 in 2007. 295 died in 2017 in an ATV accident compared to 832 in 2007. While still being dangerous and accounting for a significant number of injuries and deaths to adults and to children, a recent report from the CPSC indicates that ATVs have been getting safer over the years.
ATVs are not only popular with teenagers but also with children.  Among the 93,800 people who check into emergency rooms for ATV injury, 24,800 or 26% of them were younger than 16 and among these 24,800 47% of them or 11,700 were younger than 12.  In 2007 among the 150,900 people injured in ATV accidents 27% of them were younger than 16-year-old and half of them were younger than 12-year-old.
Among the various age categories the most significant decline of injuries over 10 years was recorded among the 16 to 24- year-old category.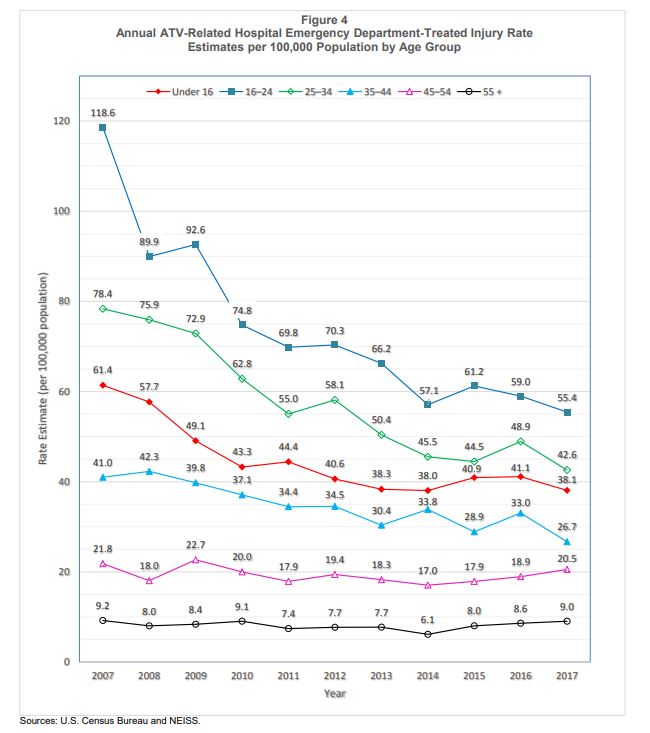 83% of all ATV users who checked into emergency room were "treated and released" and 15% of them were transferred to the operating room and admitted. Most common  ATV injuries are fractures (27%), Contusions and or Abrasions (20%), Concussions which are categorized under others (21%) in the report, Sprains and or Strains (12%), Lacerations (10%) and Internal Organ Injuries (10%).
The head, neck and harms are the area of  the body that were the most often injured followed by the torso and the legs.
The number of  fatalities related to ATV accidents has also been decreasing significantly over the last 10 years.
Since ATVs came out in the 1980ies, the US Consumer Product Safety Commission has been advocating for increased safety on these vehicles. Three wheel ATVs which were more dangerous than 4 wheel ATVs stopped being distributed in the American market in the late 80s. However many of them continued to be used by consumers for several years. Now almost all ATVs used by consumers have four wheels and are manufactured following mandatory safety standards that are updated regularly by the Agency.
The complete report from the CPSC can be downloaded here