Elderly pedestrian fatally struck in downtown Manhattan
A 91 year old pedestrian died in a car accident in New York last Saturday morning. The elderly man was crossing Canal Street at the intersection of Elizabeth Street around 6:30 am when he was struck by a car belonging to the NYC Sanitation Department.
The man was rushed to the hospital in critical condition with trauma all over his body. He later on died from his injuries.
The 61 year old sanitation worker who was driving the car stayed at the scene of the accident and was not charged.
The police are still investigating the exact cause of the accident.
Canal Street is one of the most dangerous streets in Manhattan
Street safety advocates have been asking the DOT to do something about it but so far no redesign is planned. According to statistics, on average, there are two crashes occurring every day on Canal Street. 129 motorists, 54 cyclists and 52 pedestrians have been injured in car accidents on Canal Street since 2016. One cyclist and one motorist died.
Read more in NY Streetblog
Another pedestrian saved by bystanders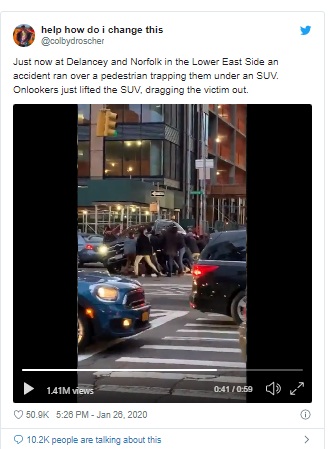 Another pedestrian was struck by a car in the same area on Sunday.  A woman who was crossing Delancey at the Norfolk intersection in the Lower East Side was run over by a SUV.
Bystanders who saw the accident, ran to the rescue. They were able to lift the car and pull the pedestrian out.
The pedestrian was a 25 year old woman. She miraculously escaped without serious injuries. She was  transported to the hospital.
The driver, a 65 year old woman, was making a left turn from Norfolk onto Delancey. She ran over the pedestrian and then hit a car stopped at the red light causing a chain reaction of fender-benders. She stayed at the scene of the accident and was issued a summon for failure to yield to a pedestrian.
Read more in the NY Daily News