Gair, Gair, Conason, Rubinowitz, Bloom, Hershenhorn, Steigman & Mackauf Recognized Once Again by U.S. News – Best Lawyers® "Best Law Firms" as a New York City Tier 1 Firm in Personal Injury, Medical Malpractice and Product Liability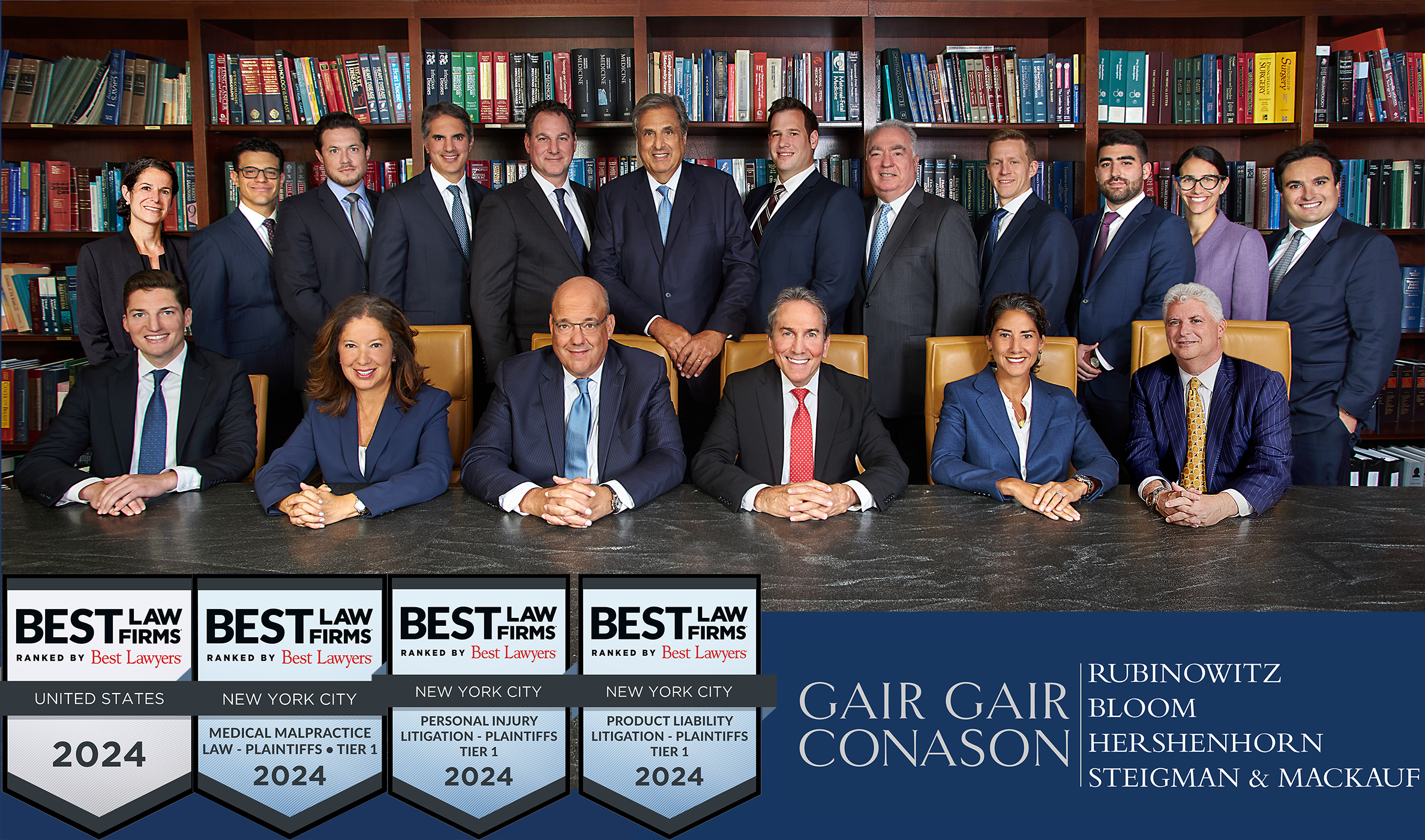 We are delighted to announce that for the 14th consecutive year, our firm has earned a spot as a Tier 1 Firm in New York City by U.S. News – Best Lawyers® "Best Law Firms" in the following categories:
Personal Injury Litigation – Plaintiff
Medical Malpractice Litigation – Plaintiff
Product Liability Litigation – Plaintiff
Ever since the inception of the U.S. News – Best Lawyers® "Best Law Firms" in 2010, our firm has consistently garnered recognition as a Tier 1 firm in New York City in the aforementioned areas.
Established in 1919, our Manhattan-based personal injury law firm has a century-long legacy of securing successes for our clients. Though we operate as a "boutique firm," taking on 80 to 100 significant and critical tort cases annually, our philosophy remains clear. By limiting the number of cases we accept, we dedicate more time and resources to each case, ensuring unparalleled service and results for our clients. Our track record and over $2 billion in verdicts and settlements are testaments to our commitment.
Highlighting some of our significant achievements this year:
A settlement of $20 million for a young woman severely injured after being hit by a train.
$9 million for an 18-year-old man with an anoxic brain injury sustained during surgery.
A $5 million compensation for a construction worker injured in a ladder fall.
$4.5 million for a client in a wrongful death case due to hospital negligence.
$4.5 million for emotional distress of a woman who witnessed her brother's fatal accident.
A $3.45 million jury verdict for a man with a severed brachial artery due to surgical malpractice.
A $3.345 million settlement for a child suffering from Erb's palsy due to delivery complications.
2024 is shaping up to be an outstanding year for our firm. Eight of our esteemed attorneys have been honored in the Best Lawyers® 2024 list, and another four are recognized as "Ones to Watch" by Best Lawyers® 2024. Leading the accolades is our Managing Partner, Ben Rubinowitz, who's been awarded "Lawyer of the Year" in two significant categories. Our other notable attorneys include Jeffrey Bloom, Howard Hershenhorn, Richard Steigman, Christopher Donadio, Marijo Adimey, Diana Carnemolla, and Allan Zelikovic. Further enhancing our team's recognition are Conor Cassidy, Rachel Jacobs, James Rubinowitz, and Richard Soldano who've earned their spot in the 2024 "Ones To Watch."