Gridlock Sam's new proposal: bridges for cyclists and pedestrians only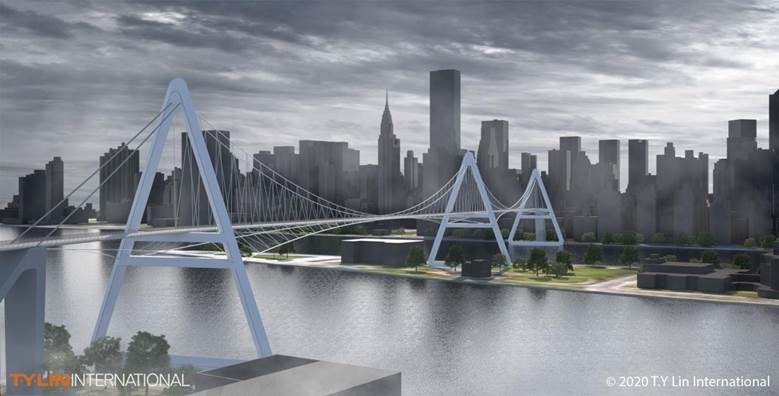 As New York City is experiencing a continuous increase in people using a bike to go to work, preventing bicycle accidents and making sure cyclists can commute safely between boroughs is key.
Now that the city is re-opening, bicycle and pedestrian traffic is expected to be larger than ever on all four East River bridges linking Queens and Brooklyn to Manhattan. The bridges are already so busy and crowded that it makes it difficult to respect social distancing.
In response to this concern, a team of transportation engineers led by Samuel "Gridlock Sam" Schwartz, is proposing to create light bridge structures that would be dedicated to pedestrians and bicyclists only. While this idea might seem too visionary for some, many world capitals such as Paris, London, Amsterdam or Singapore have already adopted the concept.
The proposed "ribbon bridges" would  be 20 foot-wide and  accommodate pedestrians and cyclists only
They would cost around $100 million each to be built which according to the proposal is half of the price of the High Line.  One of them would link Midtown Manhattan to Roosevelt Island including Cornell Technion Campus and Long Island City which has experienced a residential boom during recent years. The second ribbon would link Brooklyn and downtown Manhattan with a span across the New York Arbor to reach Governors Island. 3 new bridges would connect New Jersey to Midtown Manhattan, serving commuters from Hoboken and Jersey City.
The ribbon bridges not only would make commuting to work much safer for many but they would also become a new destination for New Yorkers and tourists alike.  The ribbon bridges would also become useful in case of other disasters hitting New York such as future epidemics, blackouts or other disasters.
Sam Schwartz, a former city traffic commissioner  has been advocating for pedestrians and bicycle paths for decades. His new proposal will be studied by State and city officials.
Read the proposal here
Picture:The proposed "Queens Ribbon" a bicycle-pedestrian bridge connecting Queens to Manhattan (rendering by T.Y. Lin
International).