Bicycle Accident caused by NYC Open Restaurants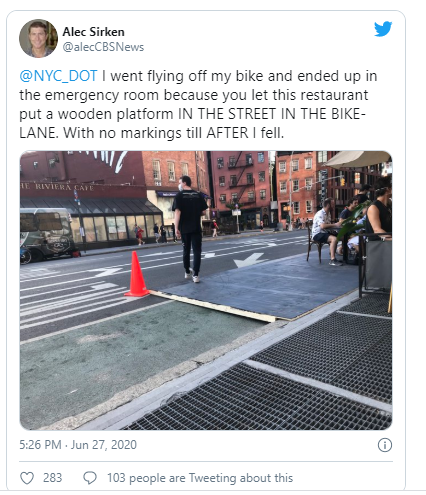 A cyclist was injured  in Manhattan, NYC, last weekend after he hit a wooden platform erected in a bike lane by a rest. Alex Sirken was riding his bike on Seventh Ave South when he hit a wooden platform left on the bike lane by Ofrenda, a Mexican restaurant in the East Village.
While the DOT  has been allowing restaurants to temporary set up tables for outdoor dining mostly in parking spaces in the streets of New York City, the guidelines are clear and do not allow restaurants to install seating areas on "No Stopping Anytime or No Standing Anytime zone, bike lane, bus lane/stop, taxi stand, or car share space".
Ofrenda was not the only offender, other restaurants such as El Camino Cantina in the East Village were also reported blocking the bike lane with tables.
Using the bike lanes for restaurant seating increases the risk of bicycle accidents as cyclists are forced to merge into the traffic to ride around the tables.
Many cyclists reported the restaurants on Twitter and that was often enough for the restaurants to change their set up and remove tables from the bike lanes.
Other restaurants have been very respectful of the safety of the bicyclists and of their clients and have erected barriers between clients seating and the bike lane to make sure everybody is safe.
Dangerous set up on parking protected bike lanes
A seating set up that is  accepted by the DOT is to install restaurant seating in the parking spaces of the parking protected bike lanes. With that type of set up, cyclists are crossing through the tables installed on the sidewalk and the tables installed in the parking spaces. This seems to be pretty dangerous for cyclists and for the restaurant staff  constantly crossing the bike lanes with orders.  in these types of cases it would probably be safer to detour the bike lane around the tables with proper signalization.