Increase in Construction Accident Fatalities last April and May in New York City
The month of April was a bad month for the construction industry in New York: 3 hard hats died in NYC construction accidents and almost 100 were injured. 2 workers died in Manhattan and one in Brooklyn.
On April 8, 51-year-old Nelson Salinas was repairing the facade on a building located  at 311 E. 50th Street near Second Ave on the Upper East Side of Manhattan. He was standing on a suspended scaffold at the 7th floor of the 14 story building when a piece of coping stone that was under one of the C-Hooks fell onto him. Salinas was transported to the hospital where he died from his injuries.
Two days later a young worker fell to his death in Brooklyn. 23-year-old Erik Mendoza, a Mexican immigrant, was replacing bricks under the water tower of a 13 story building located on Pierrepont Street. Mendoza had just been hired to work for the building a week before the fatal accident occurred. He didn't receive any site safety orientation for working on the penthouse roof, no guard-rail or fall protection were installed and the young man wasn't provided with fall protection equipment. The owner of the building was issued a DOB violation and a Full Stop Work Order was issued.
3 days later, Gregory Echevarria, a 34-year-old construction worker and army veteran who served 3 tours in Iraq was killed while assembling a crane in Soho, Manhattan. Echevarria was crushed to death by the 7.5 ton counterweight of the crane that fell fifteen feet while it was being loaded.
This burst of fatalities are the first fatalities on NYC construction sites since November 2018.
Another construction worker died in May in Manhattan. 49-year-old Queens resident, Guiseppe Pagano, fell to his death from an unguarded scaffold in a building located at 335 Madison Avenue. Pagano, a long time and beloved employee from Sciame Cosntruction, was cleaning debris on a scaffold when he fell 30 feet from an area where a section of the guard-rail had been removed by a subcontractor installing an interior curtain wall system. The worker wasn't using a safety harness, the scaffolding deck was missing 2 pieces of planks and had no guard-rail.
3 of the 4 fatalities mentioned above occurred in Manhattan. This is the first time that so many hard hats have bee dying on Manhattan construction sites during this 2-month period (April, May). In 2015, 2016, 2017 and 2018, one construction worker died every year during that same 2-month period. Globally, construction fatalities continue to be on a rising trend in Manhattan.

Construction sites in the Bronx have been fatality free since one year. Over the last 4 years two construction workers died in the Bronx, one in May 2015 and one in April 2018 according to statistics from the DOB.

23-year-old Erik Mendoza was the first hard hat to die on a Brooklyn construction site in 2019. His death  was preventable.

The last time a worker died on a Queens construction site was in March 2018. In 2018, 2 construction workers died in Queens during the first trimester. Despite these 2 deaths in 2018, construction fatalities in Queens are on a declining trend.

Staten Island is the borough with the smallest number of construction accident deaths. Only one construction worker died since January 2015.
Among the 4 NYC construction fatalities that occurred during the period of April and May,  Nelson Salinas died after material fell on him. 3 workers died after material fell on them in 2018.

The death of 34 year old Vet Gregory Echevarria was related to Mechanical Or Construction Equipment Failure. Since the beginning of 2015, 6 workers died from similar types of accidents.

Fall is the number one cause of fatal accidents in the construction industry. Both fall accidents that occurred in April and May in New York could have been prevented if workers had been provided with appropriate safety equipment.

Construction accident injuries in April and May 2019
44 construction workers were injured in April and 51 were injured in May in NYC compared to respectively 59 and 97 in 2018, 41 and 33 in 2017, 53 and 45 in 2016, 42 and 52 in 2015. In April approximately half of the injuries resulted from accidents occurring on Manhattan sites and another quarter of them from accidents on Queens construction sites. In May, most accident injuries occurred on Manhattan and Brooklyn construction sites. No workers were injured in Staten Island construction sites and only a few of them sustained injuries on Bronx construction sites.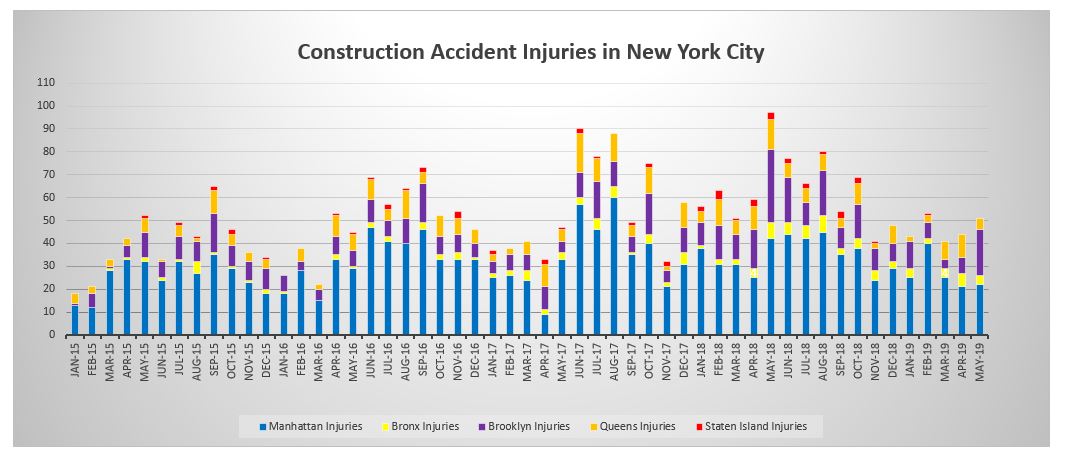 Manhattan construction accident injuries are on a rising trend. After a peak at 40 in February, the numbers of workers injured in Manhattan went down below the trend at 25 in March, 21 in April and 22 in May.

Injuries to construction workers are also on the rise in the Bronx. From the beginning of January to the end of May  2019, 22 workers were injured on Bronx construction sites compared to respectively 16, 11, 4 and 4  during the same period of 2018, 2017, 2016 and 2015.

In Brooklyn, construction accident injuries are also on a rising trend. In May 20 workers were injured compared to 7 the previous month and 32 in May 2018.  Since a peak at 32 in May last year, the monthly number of construction workers injured in Brooklyn reached 20 three times. In the 3 previous years, the highest number of monthly injuries was 18 in October 2017.

The NYC Department Of Buildings classified construction injuries in 5 different categories and anything that doesn't fall in these categories is being labeled as "other". Almost half of the injuries occurring on NYC construction sites are being labeled as others. These injuries are often minor injuries such as walking on nail, twisting an ankle, back injuries while handling heavy material or cuts.
In the injuries  that are not classified as "others", fall injuries are the most common injuries on NYC construction sites followed by fall of materials injuries and mechanical construction equipment injuries, scaffold injuries and excavation and soil work injuries.
Since the beginning of the year, Only one construction worker was injured in January while performing excavation and soil work.

Since the beginning of 2019 31 hard hats were injured on NYC construction sites in accident related to fall of material compared to 44 for the same period of last year . These type of accidents are on a sightly declining trend in NYC.

Despite being on a declining trend over the last few years, injuries related to mechanical or construction equipment failure have been on the rise for the last 3 months. 2 NYC workers were injured in these types of accidents in March, 3 in April and 5 in May.

Despite multiple campaigns to raise awareness about fall prevention safety, injuries as well as fatalities related to falls continue to rise in New York City. 14 workers were injured in fall accidents in May 2019 compared to 12 in April and 32 in May 2018. 32 is the highest number of fall injuries recorded over the last 4 years.