Fall Fatalities and Deaths in the American Construction Industry
Since 2011 the number of construction workers who died in a fall accident increased by 45% according to the recent report "Trends of Fall Injuries and Prevention in the Construction Industry" released by the The Center for Construction Research and Training.
The report focuses mostly on data from 2011 to 2017 and found that despite a slow down in construction accident fatalities between 2016 and 2017, the number of deaths related to fall accidents continued to rise. 389 construction workers fell to their death in 2017 compared to 388 in 2016.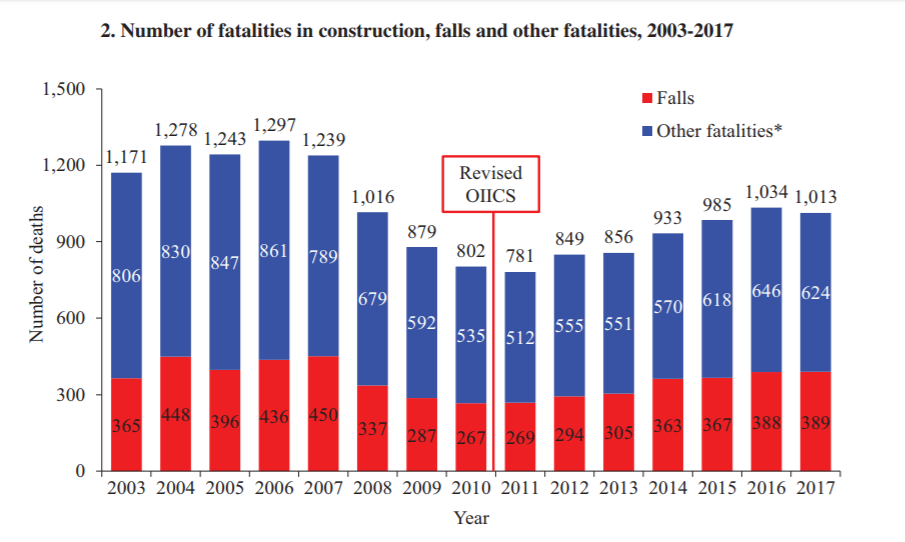 Among the 389 fall fatalities, 367 were to a lower level. Falls from roofs are the most common and account for approximately one third of the fall fatalities. Falls from ladders are the second most common causes of fall fatalities and account for approximately a quarter of them.  All in all falls from roofs, ladders and scaffolds account for more than 70% of all falls to a lower level.
Constructions workers hired by small companies that have less than 20 employees on their payroll have the highest risk of dying in a fall accident
Employers with less than 20 employees account for 75% of the fall fatalities while they only hired 39% of the construction workers.  Roofing contractors have the highest number of fall fatalities in the construction industry followed by residential building construction contractors, and paint and wall covering employers. While the rate of death  for all fatalities related to falls to a lower level was at 4.2 fatalities for 100,000 workers, the rate of fall fatalities for roofers reached 36.6 for 100,0000 workers in 2017. Iron workers also have a high rate of fall fatalities with 32.2 deaths per 100,000 workers.
In its report the CPWR also indicates that the increase in the rate of fatal falls among carpenters was worrisome over the past years. It went from 2.3 per 100,0000 workers in 2011 to 4.9 per 100,000 workers in 2017. 57 carpenters fell to their death in 2017 compared to 24 in 2011.
The majority of workers who die in fall accidents are Hispanic. They all also represent the majority of the workforce in the construction industry.
Age is also a factor. While the rate of fall fatalities is below 3  per 100,000 for workers below 45 year old, it increases to 3.7 for workers between 45 and 54 year old, 5.4 for workers between 55 and 64 and 13.1 for workers above 65.
To read more about it download the CPWR Quarterly Report or register for their free webinar tomorrow