Medical Malpractice Briefing Book 2019 recently released by the Center for Justice & Democracy at New York Law School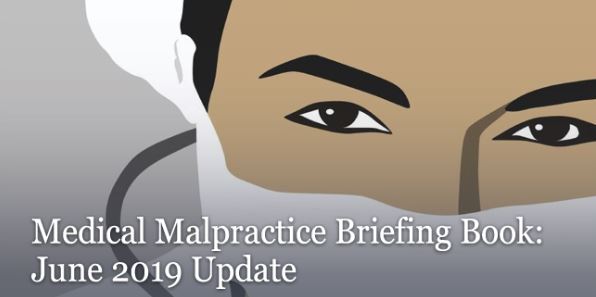 The Center for Justice and Democracy recently released the 2019 edition of their Medical Malpractice Briefing Book. This very popular publication was updated with the most recent studies, statistics and general healthcare information and comes with links to the original material.
In addition to the usual sections, this new edition contains several new sections, including: sexual assault by doctors; misdiagnoses (the most prevalent and costly type of medical error); childbirth errors; plastic surgery; resident "hand-offs;" physician stress and burnout; and the real cause of insurance spikes for doctors.
Among the many findings, here are some of the most interesting:
Between 2007-2016, the number (frequency) of medical malpractice cases dropped more than 25%. For ob/gyns, the drop was 44%. Medical malpractice represented only 0.14 percent of state civil caseloads and 3.9% of state tort caseloads in 2017.  Only 1 in 5 patient harmed by medical malpractice pursue litigation. The Medical Malpractice Payments remains at historical low and it is estimated that between 93% and 98 % of all deaths from medical negligence do no result in any liability payment.
90% of doctors with at least five medical malpractice claims are still in practice. Incompetent physicians are rarely held accountable by state medical boards or the federal government and it is very difficult for patients to find information on their doctors. In New York State, among the 75,000 licensed doctors, 1400 of them were on probation in 2017. These doctors were however not legally required to inform their patients about their status.
There is no "quality of care" information available for 75% of doctors treating Medicare patients.
Sexual abuse of patients goes largely unpunished. Doctors accused of sexual misconduct often get second chances and keep their license despite sex abuse. In New York "A broader examination of disciplinary records shows that the [NY] state health department has allowed doctors to keep practicing even when they are repeat offenders who have admitted to misconduct ranging from fraud to sexual abuse of patients to narcotics distribution."
The federal government doesn't require hospitals to tell the public how often mothers die or suffer from childbirth complications.
When Texas enacted severe "tort reform" measures in 2003, access to medical care grew by "close to zero."
When a state caps damages, rates for cardiac stress tests and other imaging tests, Medicare Part B lab and radiology spending, all rise.
Veterans continue to be seen by healthcare providers who should have been disqualified from working with them.
When it comes to preventing deaths from medical errors, out of 195 countries in the world, the U.S. ranks below the top 50.
To get the full briefing book visit the Center For Justice and Democracy at New York Law School website