Its Drive Safely Work Week – Plan Ahead to reduce the risk of accidents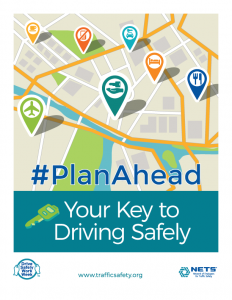 835 sales workers and truck drivers died in traffic accidents last year  according to preliminary data from the U.S. Bureau of Labor Statistics, Census of Fatal Occupational Injuries (CFOI). To raise awareness about these accidents and to reduce the number of drivers dying on the job, the Network of Employers for Traffic Safety (NETS) is running its annual Drive Safely Work Week. For this year's campaign, NETS is asking employers to extend driving safety awareness beyond company drivers and to address it to all their employees and their families. Traffic fatalities and injuries are not only causing pain and sorrow to families but they are also causing an economic burden to employers. A recent study demonstrates that in crashes resulting in injury, there is a nearly 1:1 ratio of the cost of on-the-job crashes to the cost of off-the-job crashes i.e. those that take place outside of work hours that also include non-company vehicle driver-employees and their dependents.
The theme of this year's campaign is "Plan Ahead". Planning ahead for a road trip whether it takes place on the job or off seems like routine but simple tips such as those that follow can significantlty reduce the risk of an accident:
Plan your journey an allow sufficient time to get to your destination without stress
Prepare yourself to drive in unfamiliar areas
Get sufficient rest ahead of a trip and make sure your head is clear
Adapt your driving to your physical condition and age
If you drive with a family adapt your plans to adjust to each family member needs
All employers are welcome to participate in this campaign and can freely download a toolkit for their workplace.