New legislation may soon allow troops to sue for military medical malpractice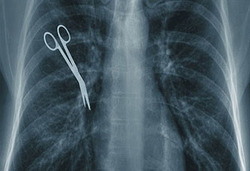 Army medical staff and doctors should be accountable for medical malpractice says a bipartisan group of House lawmakers that just announced a legislation that would allow malpractice lawsuits against the military by creating an exemption to the Feres Doctrine, a 69-year-old legal precedent barring that legal action. This new legislation is coming after congressional hearings of victims of military medical mistakes last April.
One of the key victims testifying was Sgt. 1st Class Richard Stayskal.  The 37-year-old green beret who miraculously survived a pierced lung after being shot by a sniper when he was deployed to Iraq in 2004 is now fighting for his life again because of  of gross medical malpractice by army doctors. In 2017, after struggling with severe breathing issues Stayskal went to visit a civilian doctor who diagnosed him with stage 4 lung cancer. Previously Stayskal consulted with Army doctors who diagnosed him with bad pneumonia. The Army doctors misdiagnosed the tumor in his lung, allowing it to double in size and spread to vital organs. A father of two young daughters, Stayskal has a one year life expectancy.
Also appearing in front of Congress last month was the widow of 25 year old U.S. Air Force Staff Sgt. Dean Witt. The young man was admitted  at Travis Air Force Base in Fairfield, California for a routine appendectomy. He was left in a vegetative state after a nurse anesthetist inserted a breathing tube into his esophagus instead of his trachea or airway, depriving his brain of oxygen. His family decided to remove him from life support one month after the operation.
The new legislation will give service members and their families  the right to have their claim heard in the justice system and be able to be compensated for the medical malpractice committed by military medical staff or military doctors.
Read more in Military Times