NYC Bicyclists soon better protected from dangerous accidents on Flatbush Ave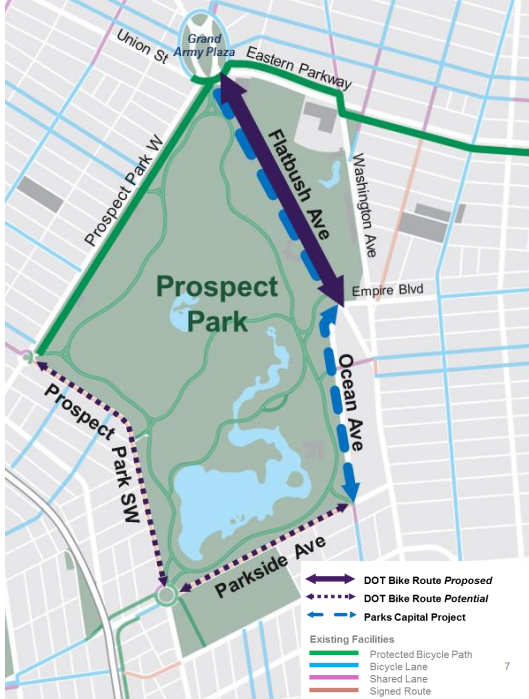 5 bicyclists, 15 pedestrians and 201 motor vehicle occupants were injured and 1 pedestrian died  in traffic accidents on Flatbush Ave between Grand Army Plaza and Ocean Avenue from 2013 to 2017. This section of Flatbush Avenue was identified by Vision Zero as a priority corridor and the DOT proposal to install a protected bike lane was recently unanimously supported by the members of the Community Board 6. Work is scheduled to start this summer.  This segment of Flatbush Avenue connecting to Grand Army Plaza, Prospect Park, The Brooklyn Public Library,  Brooklyn Botanic Garden and the Brooklyn Zoo is being used by an average of 500 bicyclists a day during the week-end and 350 during the week. It is also one of the busiest bus routes and more than 1100 vehicles per hour cross it at peak hours.
The DOT proposal should not only lead to a decrease in bicycle accidents but also improve bike  access to Prospect Park and on-street bike network
According to the DOT, the Prospect Park edge condition is ideal for two-way protected bike lanes that would provide 2-way routes around the park compared to one now and also provide alternative routes at night time when the park is closed.  Another protected bike lane project is in development for the segment of Ocean Ave that is at the edge of Prospect Park and the DOT is studying options to install bike lanes on Parkside Avenue and Prospect Park SW (see illustration).
The number of people biking in Brooklyn increased by 65% between 2011 and 2016. To prevent deaths and injuries caused by bicycle accidents, the DOT added 65 miles of  bike lanes to the actual Brooklyn network in the past 3 years. Protected bike lanes have proven to be the most efficient in reducing accidents. On streets where protected bike lanes were installed in NYC between 2007 and 2017 injuries to cyclists only increased 3% while cyclist traffic increased by 61%.
Download the DOT proposal