Should Apple be liable for distracted driving accidents?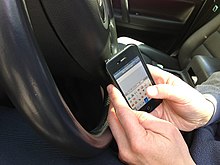 Apple recently dodged several  product liability lawsuits from families of victims of distracted driving crashes. The lawsuits claimed that Apple not only is aware that the Iphone triggers dangerous compulsive behaviors in some individuals but that the company has the technological means to prevent such behavior when a cellphone user is driving.
Back in 2008, the company submitted a patent for a lockout mechanism that disabled certain phone functions such as texting that could interfere with safe driving when the user is behind the wheel. In the patent, Apple indicated that it was fully aware of the dangers of its product by writing: "Texting while driving has become so widespread that it is doubtful that law enforcement will have any significant effect on stopping the process".  Later on in 2017 Apple briefly introduced a "Do not Disturb while Driving App". The app had to be activated by the user and critics said that compulsive users would not be the one activating it.
Despite being aware of the danger of its product, Apple still hasn't implemented any technology to protect innocent people from being killed on the road on a daily basis. So far all product litigation against the popular company has been dismissed.  One of the most recent ones involved the family of 5 year old Moriah Modisette.  Back in 2014, Moriah was in a car with her parents and her sister on a highway in Dallas when Garrett Wilhelm crashed into their car.  Moriah died and her parents and sister were injured. The investigation found that at the time of the accident Wilhem was chatting on FaceTime.
The parents of Moriah filed a product liability lawsuit in Santa Clara County Superior Court in California, Apple's home base. The lawsuit went up to the California Supreme Court and was dismissed. Several families of victims have sued Apple on similar grounds but so far all lawsuits have been dismissed before trial.
Read more in Fair Warning