The new protected bike lane on the Brooklyn bridge should be ready by the fall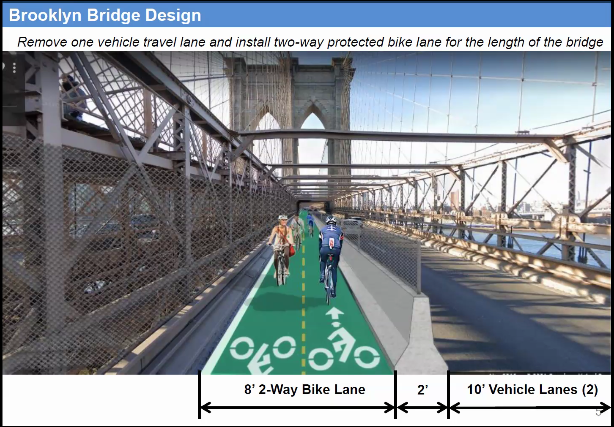 The crowded overpass of the Brooklyn Bridge has led to multiple collisions and close calls between cyclists and pedestrians over the years. For a long time, the DOT has been studying options to remediate this problem.
A previous plan in 2016 was to widen the walkways on the top of the cars to give more space to pedestrians and cyclists but the DOT dropped the idea as they were not sure the cables would be able to support the extra weight.
Narrow two-way protected bike-lane
The new plan for which work officially started yesterday night at 9:00 pm is to remove one of the car lanes that goes from Brooklyn to Manhattan and to replace it with an eight foot-wide  two-way bike path that will be protected from car traffic by a sturdy cement barrier.  The lanes will be narrower than the 12 feet wide recommendation of the National Association of City Transportation Officials but it will be better than the actual situation.
Pedestrians and cyclists will still have to compete for space for one summer as work will not be finalized until the fall. At least it officially began and yesterday morning, DOT workers were handing flyers to motorists to inform them about new traffic patterns.  Cars coming from Brooklyn will no longer be permitted to use the right turn from Tillary Street onto the Brooklyn Bridge. The change is planned to be permanent and should help avoid collisions between motor vehicle traffic and cyclists as most cyclists use Tillary Street to access the bike path.
The changes on the Brooklyn bridge are the most consequential since 1950 when the DOT decided to remove the trolley tracks from the bridge. The Queensborough bridge which also has a capacity problem on the narrow path shared by cyclists and pedestrians is next in line.
Read more in StreetBlog