3 construction workers were seriously injured after one of them lit a match while checking for gas and sparked a major explosion at New York City High School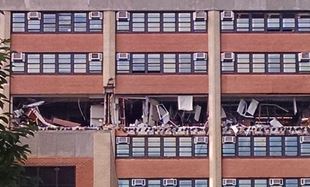 A construction worker was critically injured and two others suffered serious personal injury in a gas explosion that rocked the walls of the science lab at John F. Kennedy High School in the Bronx, NYC. 36 year Luigi Barillaro, 38 year old James Intriago and 53 year old Charles Marullo, were all working for the plumbing and heating company Mar-Sal Plumbing & Heating Inc., based on Pitkin Avenue in Ozone Park, Queens, NYC. The company was hired to install a tabletop gas valve as part of a science lab construction project located on the sixth floor of the building. The 3 men had been working all day and the room was filled with gas but they apparently didn't detect the smell of gas because they had been desensitized to it. At one point Luigi Barillaro lit a match to check if the gas was working, sparking a huge explosion, blowing out the walls and sending debris flying 200 feet.
Barillaro was critically injured and had burns over most his body. He has already undergone multiple skin-grafting surgeries. Intriago and Maruallo were also still in the hospital and being treated for burns to their arms and faces.
The school was issued a full vacate order for the entire building and a safety zone was put in place along some facades. Students who were supposed to start school there on September 9 will have to be temporarily relocated.
Read more in NBC New York and The Forum