Another Building collapses in Murray Hill, Manhattan!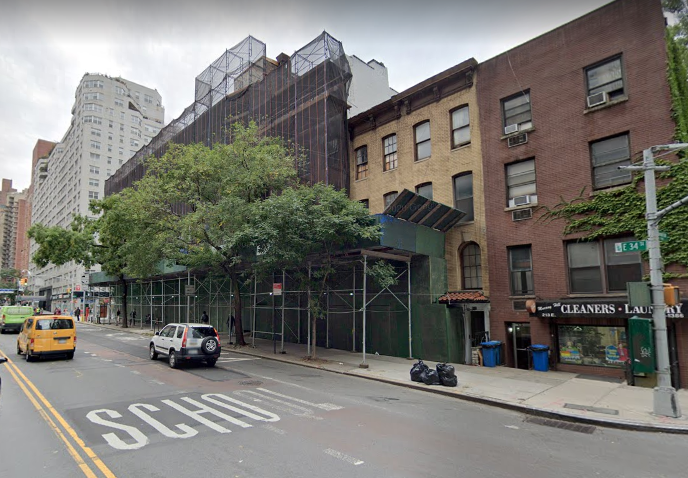 Another building partially collapsed in Manhattan yesterday, The building that hosts a mix of residences and commercial spaces is located at 211 East 34th Street. It was completely empty and was undergoing construction work. Around 11:30 am yesterday morning a first part of the wall collapsed followed an hour later by another collapse.
Nobody was injured but the street was closed by the police and the residents of an adjacent  building were evacuated for safety.
The collapsed occurred in the Murray Hill section of Manhattan a few blocks away from another deadly construction accident that occurred a few hours later and during which a piece of parapet detached from the roof and landed on a hanging scaffolding, killing one construction worker and injuring 3 others.
Less than a week ago another vacated building partially collapsed in Murray Hills as well
On July 8 an empty building that used to be a parking garage located at 203 East 38th street partially collapsed on the sidewalk and the street injuring a limo driver who was sitting in his car and almost killing a delivery man who was passing by (see previous post).
The week before, a building hosting a gym completely collapsed in Brooklyn. A gym employee miraculously survived in the collapse of the building that was also undergoing construction work (see previous blog) .
New York City has a major facade problem.  Before we were all ordered to stayed at home during the COVID crisis, two other people were killed by debris falling from unsafe facades.
According to the DOB, there are around 1,400 buildings in the city that are a danger to pedestrians. Many landlords don't fix them and just ignore the fines from the DOB. While the city does have tools to impose financial consequences to negligent building owners, they are not being used. How many collapses and how many deaths will occur until the city addresses this issue more seriously?
Picture of the building before the collapse: courtesy of Google map