Can I sue a haunted house for personal injury?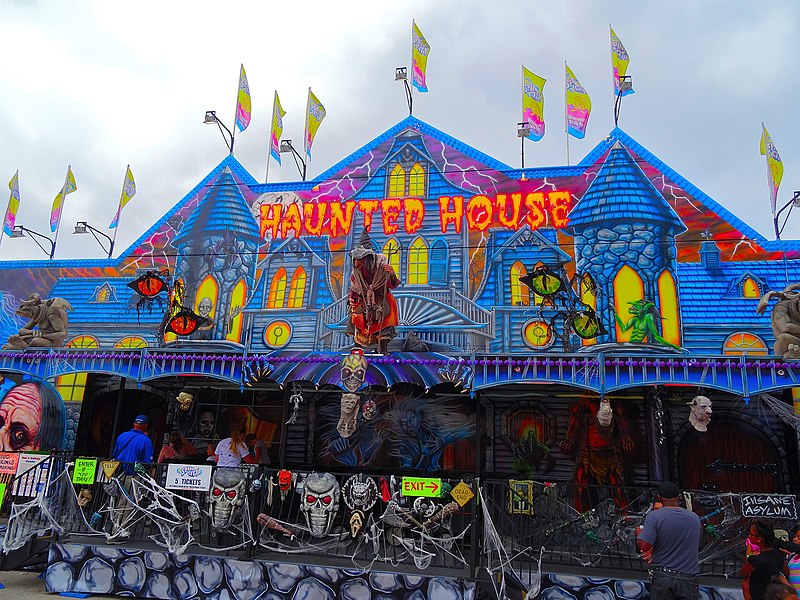 If you ran  away from a scary character in a haunted house,  hit a wall and broke your nose, even the best personal injury lawyer will probably not be able to get you compensation because of  what is called "the assumption of risk". The assumption of risk is a legal doctrine under which an individual is barred from recovering damages for an injury sustained when he or she voluntarily exposed him or herself to a known danger.
When you or your children, enter a haunted house you know that you might be scared and as a result have irrational behaviors that might result in injuries but you agree to take this risk. Therefore if you suffered injury as a result of being scared, it will be difficult to sue the haunted house for damages.
Over the years, some people have tried anyway but most of them lost their case:
In Mays v. Gretna Athletic Boosters, the plaintiff, a 10 year old girl, sustained face injuries after she ran away from a scary character and hit a cinder block wall covered with visqueen. The court rejected the argument that a brick wall covered with plastic sheeting is an unreasonably dangerous condition.
In  Bonanno v. Continental Casualty Co., an 84 year old woman claimed that she fell in the "devil's den after she was jostled by a crowd of patrons. The court held that the plaintiff assumed the risk of being frightened, jostled and pushed about when she entered the attraction.
In Gallan v. Convenant House New Orleans, the plaintiff sustained back and head injuries as she fell on the ground after being scared by a character dressed as Jason who started up a chains saw. The accident occurred  as the plaintiff was exiting the haunted house and was walking down a alleyway with a brick wall on one side and a visqueen covered fence on the other side. A barrier at the end and police officers stationed at the exit prevented visitors to run out into the parking lot . The plaintiff argued that by placing the last exhibit outside of the haunted house at a point where patrons were no longer expecting to be frightened, the defendants breached their duty and created an unreasonably dangerous risk of harm. The plaintiff lost.
A very similar case to the one above led to a similar verdict. In Griffin v. Haunted Hotel, the plaintiff was confronted to a final scare known as the Carrie effect, when patrons believe the attraction is over but it is not. Griffin ran away and fell after being chased by a character with a chainsaw as he was existing a Haunting Trail. He sued the Haunted Hotel for negligence and assault but his case was dismissed down by the court on the argument that "the risk that a patron will be frightened, run and fall is inherent in the fundamental nature of a haunted house attraction like The Haunted Trail".
In some cases however, haunted houses can be found negligent. For example, a woman won a $125,000 personal injury lawsuit after being injured by a defective prop at the Erebus Haunted House in Michigan.
More recently, last September, an actor at a haunted house in Berea, Ohio, used a real knife instead of a prop and accidentally cut the foot an 11-year-old boy. Parents did not file a lawsuit but this is definitely a risk that the visitor did not assume. Last week-end, a 13 year old girl was injured and badly bruised up after being shoved into a wall by an actor at the same haunted house called the 7 Floors of Hell in Berea Ohio. A police report was filed  by the mom. Representatives of the haunted house denied that the actor physically touched the teenager and said the girl fell into the wall after being scared.
Image source: Wikipedia