Car accident prevention in the Bronx: high school students prepare traffic calming proposal with the DOT School Safety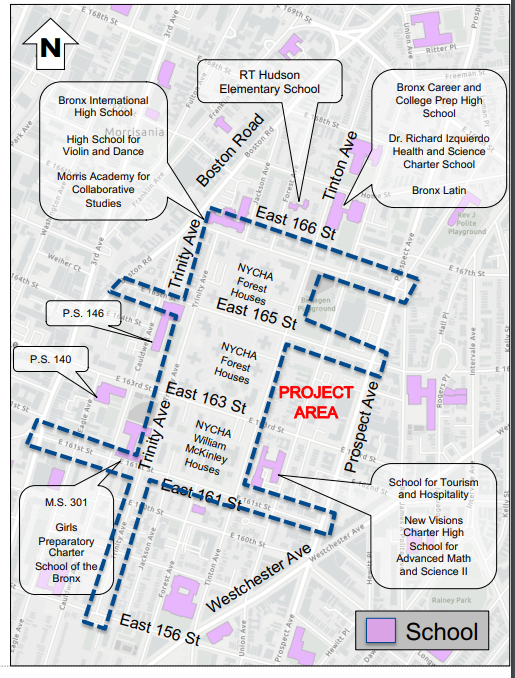 Some NYC Bronx students fed up with a high number of car accidents near their school took the initiative to study what could be done to make their street safer. As part of Vision Zero, the DOT School Safety in collaboration with the I  Challenge Myself (ICM) afterschool program worked with  a group of Bronx High School students to develop a proposal to reduce traffic accidents in a section of Morrisiana where multiple schools are located.  The section under study covers a rectangle located between East 161st Street, Trinity Avenue, East 166th Street and Prospect Avenue.
This section of the Bronx was identified by Vision Zero as a priority area. Over a period a five years more than 200 people were injured in crashes. Among them were 47 pedestrians, 11 bicyclists, and 143 motor vehicle occupants.
Students found that large roadways encourage speeding and make it difficult for pedestrians to safely cross the street
They created a traffic calming proposal that includes the addition of regular bike lanes and bike lanes protected by angled parking lanes. Additionally  they also suggested adding painted curb extensions and pedestrian islands to make crossing less dangerous.
Students also understood that many people in the Bronx have a car and park in the street therefore they made sure that the new street designs proposal would not affect parking conditions. All in all only 5 parking spots would be lost if all recommendations were applied.
The plan is supposed to be implemented later this year and the DOT is considering a potential future project that would cover another zone prone to traffic accidents in the Bronx: Boston Road from 3rd Avenue to East 173 Street. This section of Boston Road is particularly dangerous for pedestrians. Between 2014 and 2018, 1 pedestrian died and 85 were injured including 14 severely. 22 cyclists were also injured during the same period including 3 severely as well as 230 motor vehicle occupants including 27 severely.
Download the entire proposal here 
Picture source: DOT