Cyclist killed by reckless truck driver in Brooklyn
---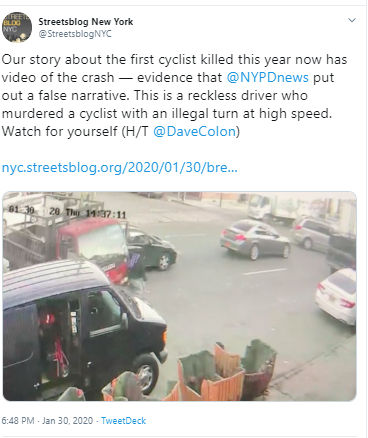 A cyclist was killed in a truck accident in NYC last week.
41 year old Pedro Lopez is the first cyclist to die in a traffic accident in New York City in 2020. He was killed by a reckless truck driver who was making an illegal U-turn at high speed on Vandervoort Avenue in Brooklyn. The accident occured on Thursday around 2:40 pm. The cyclist was rear ended by the truck. He was rushed to the hospital where he later died from his injuries.
Despite a video showing the recklessness of the truck driver, the police didn't charge him
The truck driver stayed at the scene of the accident. A witness handed a video to the police showing the truck driver recklessly striking the cyclist but the police didn't charge him.
The video was also obtained by Streetblog (see tweet on the top left) and Transportation Alternatives released a statement asking the NYPD and the Mayor to stop ticketing cyclists and to take immediate and bold  actions toward street safety so that 2020 would not be a repeat of the 2019 carnage.  27 people died in NYC bicycle accidents last year. This is more than any other year since 2000. In response to last year's increase in bicycle accident fatalities the NYPD ticketed over 35,000 cyclists. Visibly this strategy does't work but anytime a cyclist is killed in traffic, NYPD has habit to organize a ticket blitz a few days after at the scene of the accident instead of going after reckless driving. As a comparison reckless truck and large commercial drivers received 34,593 moving violation summonses, 500 less than cyclists.
Previous traffic deaths and injuries on Vandervoort Ave
It is not the first time that someone has died on Vandervoort Avenue. Last year a pedestrian was killed near the Maspeth intersection. A motorist also died at this location in 2015. Since Vision Zero started  in 2014, a total of 10 cyclists and 10 pedestrians were injured in traffic accidents.