A man died and a woman was critically injured after being hit by a piece of fire escape that fell 7 stories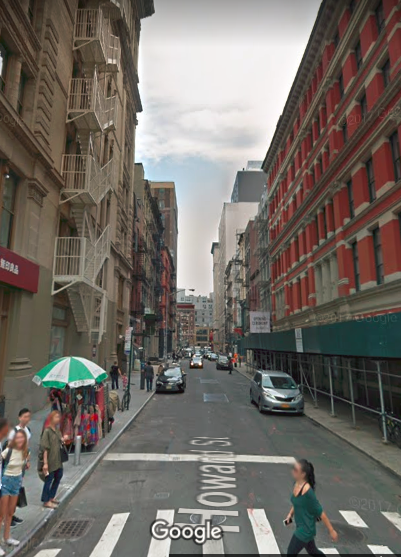 A man and a woman walking on Howard Street in New York City suffered critical injury after being hit on their heads by a falling piece of fire escape on Friday afternoon.
The man, identified as 58 year old Richard Marchhart from Long Island, succumbed to his injuries a day after his hospitalization. He left behind a wife and three children: a daughter going to high school and two sons going to college.
The injured woman is a 24 year old artist who was on her way to a studio at the New York Academy of Art on Franklin Street.
The piece that fell from the seventh floor was a 150 pound step from the fire escape. The step gave way as a building inspector stood on it during a routine inspection required by the DOB. The inspector who was hired by a private contractor started to fall but thankfully she was able to pull herself up.
After the accident, the NYC Department of Buildings issued a violation for failure to safeguard the building. Later on scaffolds were erected on the sidewalk and a crew of inspectors were seen jumping on every step to see if they were holding.
EXPERIENCED NYC PREMISES LIABILITY ATTORNEYS
The New York Personal Injury Lawyers at Gair, Gair, Conason, Rubinowitz, Bloom, Hershenhorn, Steigman & Mackauf have vast experience with these types of premises liability cases. Among similar cases we have handled is one in which one of  our clients was standing on a fire escape landing. The landing collapsed causing him to fall approximately 30 feet to the ground. He was severely injured as a result. The case settled for $5 million immediately prior to trial (see previous blog). In another case our attorneys successfully represented a man whose skull was split  in two by a security fence that fell from a building. He miraculously survived. The case was settled for multi-million dollars. The amount is confidential.
Picture of the location of the accident: courtesy of Google Map