Medical Malpractice Prevention – New Diagnostic test may prevent failure to diagnose sepsis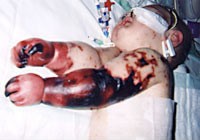 Delay to treat or Failure to diagnose Sepsis may lead to the loss of multiple organs and ultimately to death. Every year 500,000 Americans will be hospitalized because they suffer from severe Sepsis and 250,000 will die from it. Sepsis is a condition that is usually triggered by a bacterial infection of the bloodstream. Early diagnosis is key to preventing mortality. Thanks to a new automated diagnostic test developed by a team of researchers led by Nathan Ledeboer from the Medical College of Wisconsin (MCW), USA, sepsis could be diagnosed much faster and many lives could be saved.
The study is published this week in PLOS Medicine.