New York City bicyclists commuting to work are still at risk of dangerous accidents despite recent Vision Zero measures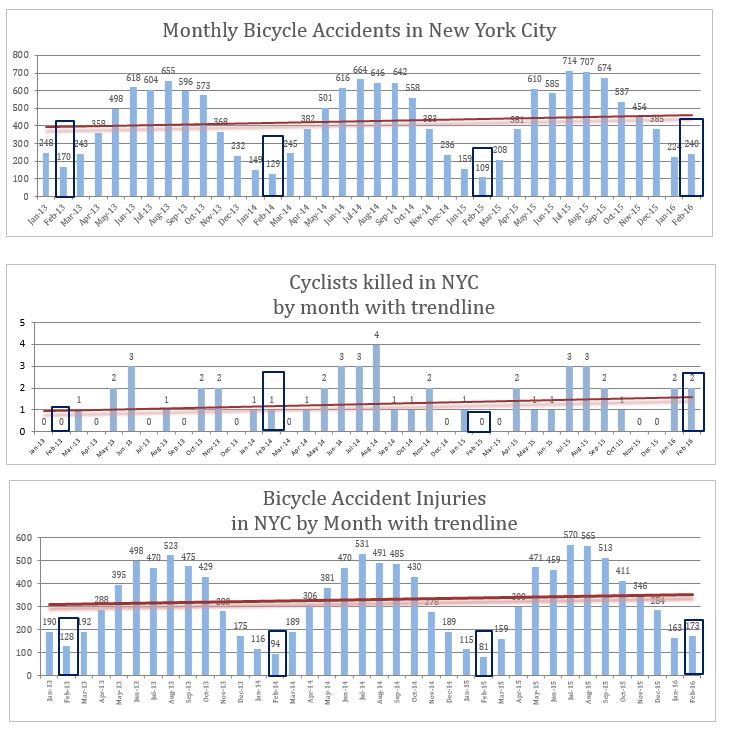 Bicycle accidents in New York have been on the rise in recent years and so have the number of people injured or killed in these accidents. Commuting by bike has become quite popular among New Yorkers but it remains quite dangerous mostly because car drivers are driving negligently.
Despite new Vision Zero safety measures such as street re-design and the addition of miles of protected bike lanes the biggest danger bicyclists are facing in the city are negligent car drivers. To raise awareness about the danger that commuters are  facing while using their bicycle to go to work, Jake Dobkin from the Gothamist has asked several colleagues who use their bikes for their daily commute to film their ride.
Jack Dobkin commutes daily between Park Slop and Dumbo in Brooklyn and he is using his bicycle to go to work as well. In Episode One of this series, Jack shows his own daily bicycle ride to the office. Jack says that he'd rather ride one more mile on each commute to avoid using Jay Street which is one of the most dangerous street for bikers in NYC (if you want to understand why check the video clip on our( NYC bicycle accident lawyer page).
Even though he is using a safer route the video below shows that for a 12 minute bicycle ride, he was put at risk 10 times of a dangerous bicycle accident by 6 cars blocking the bicycle lane, 2 cars running a red light, one car tailgating and another car and a bicycle that almost collided in front of him.
The video clip demonstrates that too many car drivers are driving negligently and putting New York Bicyclists at risk of numerous dangerous accidents.
If you are using your bicycle to commute in New York City you are invited to contribute to this series by sending your own video to the Gothamist. For more info, Read the complete article here.