New York City Construction Safety Week is ongoing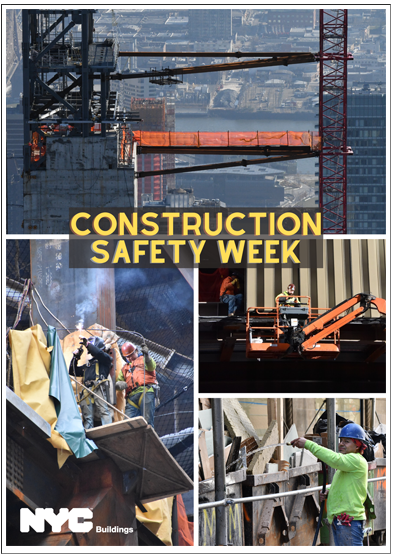 Falls are the main cause of  injuries and deaths for construction workers in New York City and most of them can be prevented.
A large safety awareness campaign is going on this week in New York City to reduce accidents on construction sites, with a focus on fall accidents.
Construction Safety Week is a yearly safety campaign organized by the NYC Department of Buildings to remind workers and their employers and families that safety best practices on construction sites prevent accident injuries and deaths.
DOB Construction sites safety visits
If you are a construction worker you might have seen DOB staff visiting your site, distributing safety related documentation and talking to you and your boss about construction site safety.
A construction safety-themed food truck is also driving around the five boroughs of the city this week, providing free food to workers and teaching them about injury prevention.
Public announcements on construction safety
Those who are not construction workers might have seen public service announcements on their television (see the YouTube video below for an example) as well as in the bus or in the subway because keeping construction workers safe as they build the city is a concern for all New Yorkers.
Construction Safety Seminars
Additionnally, during this week, the Department of Buildings is hosting an online construction safety conference entitled "Spring Digital Build 2022: Safety, Innovation & Sustainability Conference during which anyone can attend safety related courses. Many of these courses qualify for AIA continuous education. The courses are recorded so participants can also look at a replay at a convenient time for them. The lists of  events can be found here.
New York Construction Safety Week is usually preceded by the annual  Hardhat Procession into St Patrick's Cathedral and the Memorial Mass for NYC construction workers killed or injured on worksites during 2021 and the first months of this year.
The 2021 Construction Safety Report provides a detailed review of the deadly construction accidents that occurred last year in New York City and what the Department of Building is planning to do to prevent such accidents to occur again.