Nine people injured after MTA bus plunges off a Bronx overpass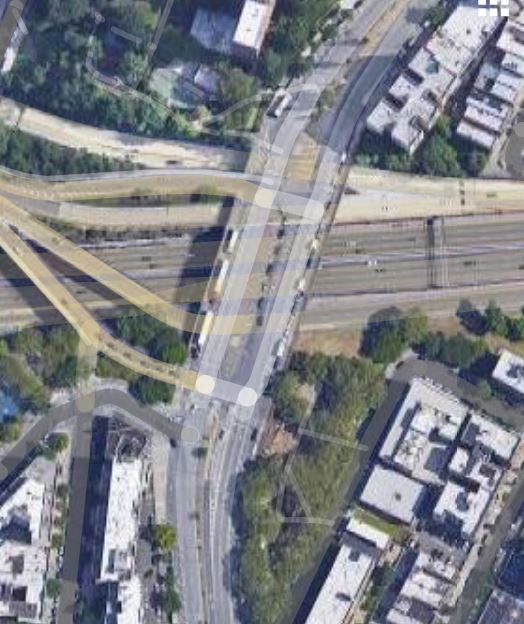 8 passengers and a driver were injured in a MTA bus accident last week. The driver lost control of the bus and  plunged from an overpass, leaving the articulated bus dangling over an expressway in the Bronx.
The accident occurred as the articulated bus was on the University Avenue overpass above the Cross Bronx Express Way. According to preliminary investigation speed was a factor in the accident. As he made the turn to get on the  overpass, the driver's speed was between 17 and 26 mph while the safe speed for such a large bus should have been 3 to 4 mph.  He lost control of the bus, teared through a metal gate and plunged 50 feet over the overpass, leaving the accordion bus dangling from the overpass with its nose on the expressway below. The bus driver was able to extricate himself from the bus and help other passengers to get out of the bus. he suffered jaw, leg and knee injury. 8 other passengers were injured including two seriously. They were all transported to the hospital.
DANGLING AND IN DANGER: 8 people on board a BX35 articulated bus thrown over the edge of University Ave onto the Cross Bronx overnight. Miraculously no major injuries. Work continues to tow away the wreckage. @PIX11News photos: @MTA Latest all morning live from the scene. pic.twitter.com/IdmInocV8l

— Anthony DiLorenzo (@ADiLorenzoTV) January 15, 2021
The bus driver was identified as 55 year old Everton Beccan.  Beccan had been driving for the MTA for the last 11 years without prior accidents.  He submitted himself to a breathalyzer at the scene of the accident.
Later on, the MTA told media that the driver refused to submit himself to an alcohol and drug test at the hospital but in a press conference yesterday the driver denied that he refused to submit himself to a drug test
The accident occurred on Thursday a little after 11:00 pm. In the morning, MTA Interim Transit President Sarah Feinberg confirmed that the driver passed the breathalyzer test but told reporters that the driver refused to provide urine for the FTA-mandated and MTA-mandated drug and alcohol test.
Yesterday the bus driver who was suspended without pay pending internal investigations fully denied the accusations from the MTA. In a press conference with union representatives, Beccan showed medical reports indicating that while he was hospitalized he took a blood test at 4:00 and a urine test at 10:am on Friday.
Read more in the Post
Picture of the location of the accident: Google Map