Pedestrian dies in New York sanitation truck accident near the very controversial East 91st Street Marine Transfer Station
A pedestrian was fatally struck by a sanitation truck in New York yesterday morning around 6:00 am. The pedestrian, a 55 year old woman had the right of way. She was crossing First Avenue in the crosswalk with the walk sign on when she was struck by a sanitation truck driver who was making a left turn from 92nd Street onto First Ave. After the accident the police indicated that the victim was injured but conscious. She had a deep cut on her forehead and she also complained of leg and wrist pain. She was taken to the hospital where she was pronounced dead 20 minutes later.  She may have suffered fatal internal bleeding.
The driver of the sanitation truck stayed at the scene of the accident. So far he hasn't been arrested or charged. Under the Right of Way Law, New York drivers injure or kill a pedestrian who has the right of way can be criminally charged.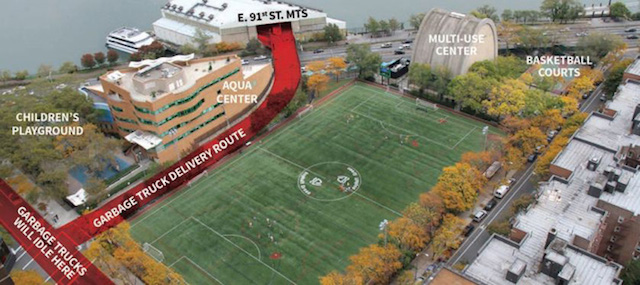 Residents of Yorkville had long predicted that such an accident would happened when in 2014 they tried to oppose the construction of the East 91st Street Marine Transfer Station, a massive garbage site visited by hundreds of garbage trucks every day.
Located next to Asphalt Green, an athletic facility frequented by thousands of children and opposite  public housing units, the site was built despite the outrage of the residents. The garbage site's access ramp location is the most controversial. Located on 91st Street, the route to the access ramp crosses between a children's play ground, an aqua center and an athletic field. After strong residents protests, the city agreed to build another ramp that will be accessed from 92nd street. The ramp will however not be ready until 2020. Until then hundreds of garbage trucks will continue to cross Asphalt Green daily.
The vision Zero map that collected residents feedback two years ago shows that at the intersection where the accident happened, residents had expressed concerns that the heavy traffic of garbage trucks traveling to and from the East 91st Street Marine Transfer Station could result in pedestrians being killed.