Pedestrian killed by another car jumping the curb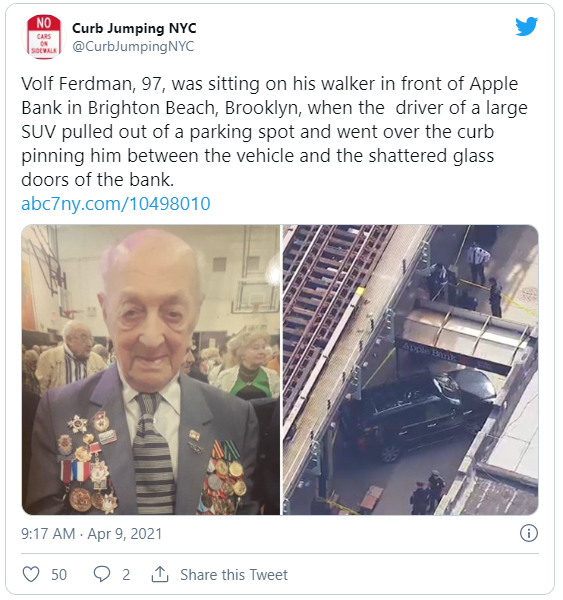 One day after a pedestrian died after being hit by a car on a Manhattan sidewalk and 5 other people were injured after a car jumped the curb in Brooklyn (see previous blog), another NYC pedestrian died  after being struck by a car jumping the curb in Brighton Beach in Brooklyn, NYC.
Volf Ferdman, a 97 year-old decorated World War II veteran and beloved grand father was killed by a 79 year-old driver last Wednesday afternoon while on his way to the bank.  The accident occurred right in front of the Apple Bank located on Brighton Beach Ave near 4th Street around 3:45 pm. Ferdman was sitting on his walker in front of the bank when the driver of a large SUV, a 2008 Cadillac Escalade who was parked in front of  him started to maneuver to get out of the parking space. As he was doing so, the 79 year old motorist lost control of the massive SUV, jumped the curb and pinned Ferdman between the front of his car and the bank's glass window. Ferdman was still alive when emergency responders arrived but the injuries he sustained were so bad that he later passed away at the hospital. He lived just a few blocks away from the bank. An Apple Bank employee told the News that the SUV had a handicapped sticker in the windshield.
Ferdman was a beloved grandfather and great-grand father and his 46 year old granddaughter Svetlana Statsyuk told the News that her grand father was looking forward to celebrating "Victory Day" on May 9th, a former Soviet Union holiday celebrating the 1945 surrender of Nazi Germany. Ferdman was originally from Ukraine and fought  for Russia during World War II. He later immigrated to the US and choose Brighton Beach in Brooklyn as his new home. His family was his biggest joy and they loved him dearly.
Read more in the NY Daily News