Pick-up truck plows into NYC restaurant's outdoor seating area injuring several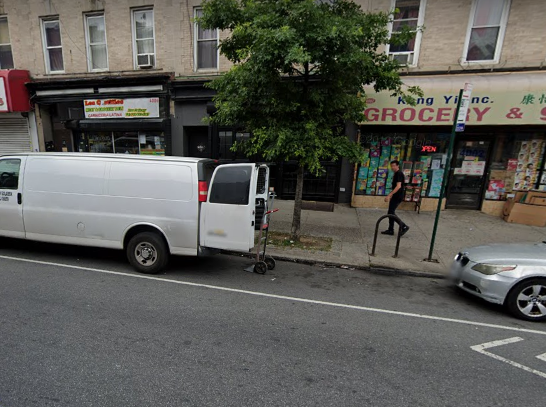 Several people were injured in a pickup truck accident in New York City last week . The crash occurred in Sunset Park, Brooklyn, NYC.  The driver of a Ford pick up truck crashed into the barriers of  an outdoor dining areas erected on Fifth Avenue near 41st Street by L'Wren restaurant (see Google map Picture on the left). "Open Restaurants", the city's initiative to expand dining area into the street to reduce the risk of covid-19 propagation is allowing restaurants to create outdoors dining area on parking spaces. As a result cars are driving right on the side of people having food and drinks. Protective barriers are mandatory, however in the case of the accident that occurred at L'Wren restaurant, the 5000-pound pick up truck knocked them down onto the floor.  3 patrons were injured and taken to the hospital to be treated for minor injuries. A mother just had the time to scoop her two kids away to prevent them from being injured. The scene was really scary according to witnesses and it could have been much worse. The driver of the pickup truck stayed at the scene of the accident. The police found that he was unlicensed and he was issued a summon for driving without a license and let go. Read more in Street Blog.
This is the second time that a vehicle plows into the outdoor area of a restaurant in New York City
On July 13, a driver made a mistake and press on the gas pedal instead of the brake pedal and crashed into the outdoor seating of 12 Corazones Restaurant and bar on Roosevelt Avenue in Queens. A waitress and 4 customers were injured and hospitalized after the car jumped the sidewalk and crashed into the restaurant at full speed destroying not only the seating area but also the indoor structure of the establishment. (see video here).
The owner of the restaurant who was interviewed by NY1 was upset and couldn't believe what happened. He was first hit hard by the Covid-19 lock-down like all other restaurants and  after he finally re-opened a driver destroyed his business and injured his staff and clients. The restaurant hasn't reopened yet.