Speed cameras in NYC, are they fair?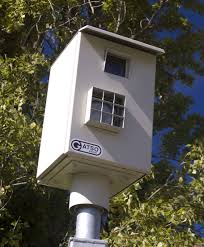 Speed cameras in New York City have lead to a decrease in crashes but some drivers says they are an unfair way to get revenue from predominantly communities of colors.
After a recent article in ProPublica looked at Chicago traffic camera tickets and found out that it was disproportionately ticketing Black and Latino drivers, Street blog NY investigated the situation in New York and found that while speed cameras were equally located all over the city, areas where streets had not been redesigned  to be safer were the areas where the most tickets were issued. These areas are where communities of color reside.
East New York zip code 11208 which is an area where 54% of the population is black and 59% of households do not have a car, cameras recorded 187,456 speed tickets, the highest in New York City.  That's more than 500 tickets a day.
Streetblog argues that the reason why so many speed tickets are emitted in this area is because streets have not been redesigned and major speedways cross the zip code area such as the Jackie Robinson Parkway, Conduit Boulevard, Linden Boulevard and Atlantic Avenue.  Wilfredo Florentino, the Transportation Committee chairman of Brooklyn Community Board 5 which  partially covers the 11208 zip code says he is in favor of the cameras but that just installing cameras without improving the street infrastructures is not enough to improve safety in his community.
The city has been promising for more than 10 years to make Atlantic Avenue safer but little has been done and people continue to be killed or seriously injured in car accidents regularly
Last October, Jose Ramos was killed by a hit and run driver  (see previous blog) on a stretch of Atlantic Avenue in East New York that was identified in 2014 by mayor de Blasio  a "Vision Zero Corridor". "Vision Zero Corridors" were supposedly areas where safety needed to be addressed in priority. The new mayor Eric Adams who at the time was the Brooklyn Borough President told Streetblog in 2014: "In 10 years time, we want to see a completely different Atlantic Avenue."  New public plazas and other safety infrastructures were promised but 8 years later very little has been done to make Atlantic Avenue safer in East New York and people continue to die.
Now that Eric Adams is the mayor, he has two years left to stick to his promise.
Read more in Streetblog