To prevent deadly accidents the NYC DOT is lowering the speed on two dangerous Brooklyn avenues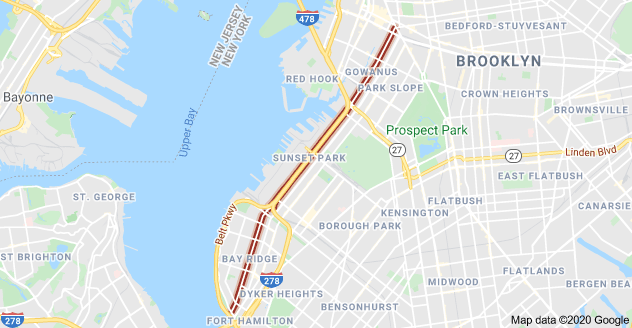 To reduce pedestrian and cyclist fatalities caused by cars and trucks on two of the busiest and most dangerous avenues in Brooklyn, the NYC DOT announced that the maximum speed limit was lowered from 30 mph to 25 mph. New signs are up and speed cameras have been re-calibrated on Third Ave and Hamilton Avenue in Brooklyn. The DOT decided to take action after 6 people including 3 cyclists and 3 pedestrians died in traffic accidents on Third Avenue last year. Two of them were killed in the same week in December.
The area around Third avenue and Hamilton Avenue has been changing a lot in the past years with more and more residential properties being developed. However there are still a lot of trucks coming in and out of the Gowanus, making the area particularly dangerous.
Half of the 2019 fatalities involved trucks
The first NYC traffic accident death of 2019 occurred on Third Avenue in Brooklyn. 26 year old Hugo Garcia was riding his e-bike on Third Avenue near 28th Street when he was doored by a driver and then ran over by another. 17 days later, a pedestrian identified as 27 year old Fernando Trejo was killed by a hit and run driver at the intersection of 52nd Street and Third Avenue. On July 29th, 30 year old Em Samolewicz was riding her bike on Third Avenue near 36th Street when she was doored into traffic and ran over by a tractor trailer. She did not survive the accident. On September 8, 62 year old Abul Bashar was struck by a private garbage truck trying to make a left turn on 12th Street as he was riding his e-bike on Third avenue. He suffered from critical head injuries and died from his injuries days later.  On December 19, 85 year old Brendan Gill was fatally hit by a box truck as she was crossing Third Avenue near 39th Street. A day later, a 57 year old pedestrian died after being hit by a car as he was crossing the intersection of 7th Street and Third Avenue.
Image: Courtesy of Google Map
Sunset Park residents are fed up with the safety failures of Third Avenue