Woman killed in tractor-trailer truck accident in New York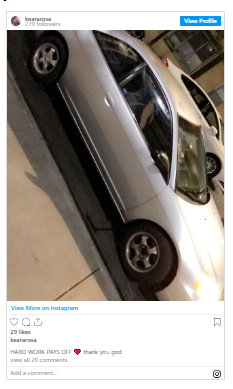 A woman standing next to her car was fatally hit by a tractor trailer truck in NYC last week. 27 year old Keara Rosa had just purchased a used car two weeks before with some cash that she had been saving. She was very proud of her purchase and posted a picture of the new car on Instagram and commented "HARD WORK PAYS OFF , Thank you god". Last Wednesday around 12:15 she was driving her car on the  Cross Bronx Expressway  near Southern Boulevard when something went wrong with it. She pulled over onto the shoulder and got out of her car. As she was standing next to her car, a massive truck crashed into it, pinning Keara between the car and the wall of the expressway and killing her.
The out of control truck hit several cars injuring two before fatally crashing into Keara's car
According to the police, the 55 year-old truck driver was driving in the right lane of the 3-lane Bronx Expressway when he swerved to the left to avoid slow traffic ahead of him. As he was doing so, he  lost control of his truck and hit 3 cars: a Toyota Corolla driven by a 51 year-old man, a Toyota Camry driven by a 29 year-old woman and a Lexus driven by a 58 year old woman. After hitting the 3 cars, the truck swiped the concrete divider in the middle of the highway.  It then swerved back to the right side crashing into Keara's car and killing her.
Two other people, the 29 year old woman who was driving the Toyota Camry and the 58 year old woman who was drivng the Lexus, were also injured in the crash and transported to the hospital to be treated.They both suffered minor injuries.
The truck driver did not suffer any injury in the accident and wasn't charged.
Keara's mother, a retired 9/11 first responder was supposed to celebrate her 60th birthday with her daughter at the end of the month instead she is now planning her funeral.
Read more in the NY Daily News