How to better prevent crane accidents in New York?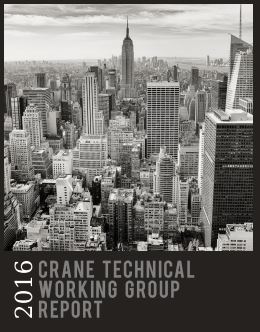 Following the fatal collapse of a crane in  lower Manhattan last February, Mayor de Blasio and NYC building commissioner Rick Chandler created the Crane Safety Technical Working Group. The mission of this independent group of experts was to assess actual New York crane safety regulations and provide a set of  recommendations to improve existing regulations and limit further crane accidents in New York City. A few days ago the group released a report that includes  23 recommendations to improve crane safety in New York City.
The group noted that despite having some of the most comprehensive crane safety regulations in the world, the NYC  Department of Buildings hasn't comprehensively revised and updated these regulations since 2008. In between technology and best practices have evolved tremendously. A new effort to update regulations was launched by the DOB  last year but nothing has been released yet. Therefore the Crane Safety Technical Working Group proposes that the Department of Buildings integrates the Crane Safety Technical Working Group recommendations with their ongoing efforts to update the existing crane regulations.
In its recommendations, the group suggests:
To  equip cranes with the latest technology such as  anemometers, data-logging devices and GPS tracking instead of using paper reports
To adopt and comply with recognized industry standards that are regularly updated by top worldwide crane experts
To shift some responsibilities for crane safety compliance to private individuals or companies using a model similar to the site safety model used for high rise construction
To improve training and licensing
The report that can be downloaded here, received a warm welcome from Buildings Commissioner Chandler, Mayor de Blasio, Housing and Buildings Committee' Council Member Jumaane D. Williams and District Council Member Margaret Chin.
Our partner, New York crane accident attorney Howard Hershenhorn is representing the widow of David Wichs who was killed in the February crane collapse. He recently filed a notice of claim on her behalf against the City of New York for $600Million (see previous blog).