Bicyclist killed in MTA Bus Accident in Manhattan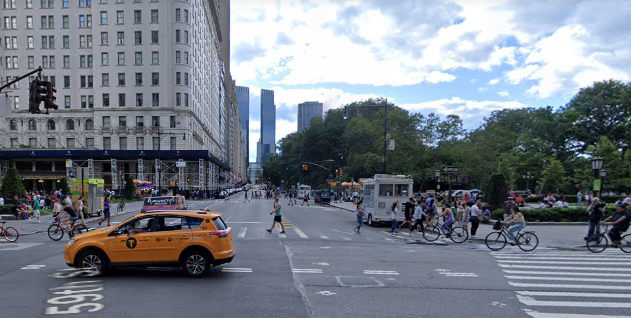 A 19 year old female bicyclist was killed in a MTA bus accident yesterday.  The young woman was struck by the BmX10 bus on Fifth Avenue at the corner of the 59th Street intersection.
It is still not exactly clear how the accident occurred. A hot dog vendor who witnessed the accident told the NY Daily News that it seemed that the young woman was trying to merge into traffic from 60th street and that she was struck by the bus and then dragged under the wheels for about half a block until the bus driver stopped.
The cyclist died at the scene of the accident from severe head trauma. The driver stayed at the scene of the accident. Despite its proximity to Central Park, Fifth Avenue doesn't have a bike lane in the Upper East Side area, therefore the many cyclists coming out of the Park at this location have to navigate between the buses and the car traffic which can be very dangerous on this busy avenue.
The young woman is the third person to die in a bicycle accident in a week
Two other cyclists were killed in the Bronx in two separate incidents recently. On June 12th, 38 year old  Jose Luis Estudillo Garcia was struck by a box truck near the intersection of Park Avenue and 138th Street in the Bronx. The cyclist was attempting to ride around a doubled parked vehicle and was struck by the rear wheels of  a moving truck box.  One day before on June 11th, 62 year old Ivan Morales was fatally struck by a Lexus SUV at the intersection of Willis Avenue and 138th Street in the Bronx as well. One of them ran the red light but the police refused to say if it was the car driver or the cyclist.