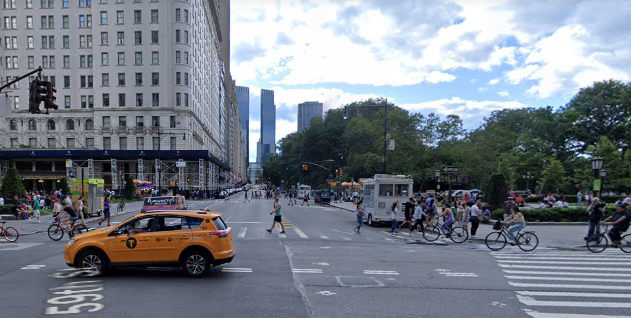 A 19 year old female bicyclist was killed in a MTA bus accident yesterday.  The young woman was struck by the BmX10 bus on Fifth Avenue at the corner of the 59th Street intersection.
It is still not exactly clear how the accident occurred. A hot dog vendor who witnessed the accident told the NY Daily News that it seemed that the young woman was trying to merge into traffic from 60th street and that she was struck by the bus and then dragged under the wheels for about half a block until the bus driver stopped.
The cyclist died at the scene of the accident from severe head trauma. The driver stayed at the scene of the accident. Despite its proximity to Central Park, Fifth Avenue doesn't have a bike lane in the Upper East Side area, therefore the many cyclists coming out of the Park at this location have to navigate between the buses and the car traffic which can be very dangerous on this busy avenue.