Company responsible for two New York crane accidents temporarily banned from working in the city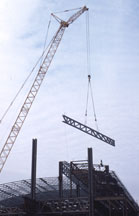 After two successive crane accidents in New York including one fatal, the company United Crane and Rigging was temporary barred from continuing work at 22 construction sites in the city. The NYC DOB will allow the company to restart work only after it replaces some of the employees involved in the recent accidents that occurred on July 30 in the East Village and in April in Soho. On July 30, the company had a crane working at a site located at 749 FDR Drive. The operator of the crane was lifting steel beans when the boom of the crane bent and partially collapsed. The operator then lost control of the load which struck the building before falling on the ground. Thankfully nobody was injured but investigators found that the load lifted by the crane weighted 4,400 pounds while the maximum lifting capacity was 3,700 pounds. Back in April,  34 year old Gregory Echevarria, a war hero who served several deployments in Iraq and Afghanistan died and two other construction workers were injured after a counterweight fell and crushed him during a crane installation by the same operator (see previous blog).
To be able to restart work on its 22 construction sites, United Crane and Rigging has to provide proof to the NYC Department of Buildings that the engineer of record, master rigger, lift director, assembly and disassembly and hoisting machine operators have all been replaced with new staff. Additionally the company also has to hire an independent monitor who will report to the DOB on United Crane and Rigging's safety compliance.The negligent crane company was also hit with 5 DOB violations for:
inadequate safety measures on site
failure to safeguard the construction site
failure to proprely notify the DOB
failure to designate a competent lift director
failure to have proper documentation on site
The total  fine proposed by the DOB for these violations is $110,000.
Read more in The Real Deal