Horrifying video shows Queens pedestrian knocked down by two cars in notoriously dangerous intersection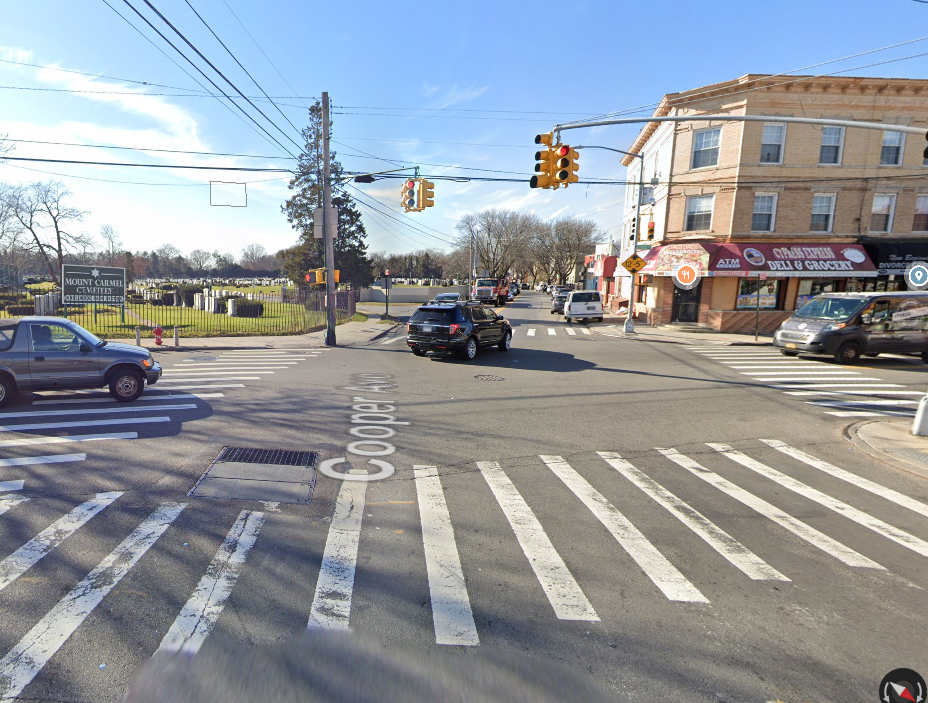 Reckless driving in New York City continues and another pedestrian died in a horrific car accident last Saturday night in Queens. A video posted on Twitter (see below) shows the pedestrian crossing in front of a white SUV who did not yield to him and knocked him down on the ground. Then the driver of a black SUV whose car was so tall that he probably did not see the pedestrian lying on the ground, rolled over him and dragged him under his car for a few feet.  The 57 year old pedestrian was still breathing when the EMS rescued him but he died shortly later at the hospital. The driver of the white SUV, a 40 year old man received a summons for failure to yield. The NYPD did not say if the driver of the black SUV was charged. Large SUVs and trucks are responsible for a large number of pedestrian injuries and deaths in New York City.
The accident occurred at the intersection of Cypress and Cooper which is close to Glendale, Queens as well as Ridgewood and Bushwick in Brooklyn. Both cars were making a left turn from Cooper Avenue onto Cypress while other cars coming from the other direction were also turning right onto Cypress. The video shows the white SUV cutting really short in front of another car making a right turn and then the black SUV driving over the pedestrian to avoid a collision with another car turning right as well.
The intersection is notoriously dangerous but except for new pavement last year, it was never redesigned. During the de Blasio administration, according to NYC Crash Mapper, 153 crashes occurred at this location resulting in 73 people injured. Among them were 56 motorists, 10 pedestrians and 7 cyclists.
Read more in StreetBlog NYC
Picture of the location of the accident: courtesy of Google Map
Queens: Cypress Avenue & Cooper Avenue, pedestrian struck by two vehicles two days ago on February 12th, 2022 in te confinesofthe @NYPDnews/@NYPD104Pct. The aided was transported to the hospital in critical condition. pic.twitter.com/BiHCIR9smf

— NYC Scoop (@NY_Scoop) February 14, 2022