One dead and four injured in New York crane accident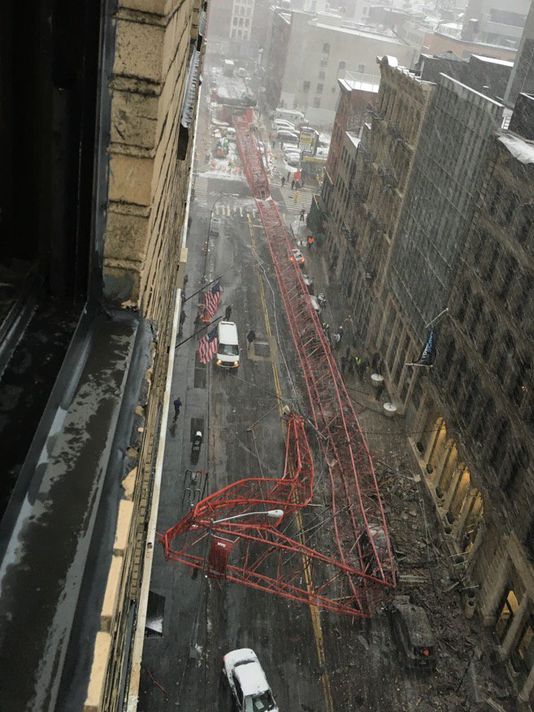 A man died and four other people were injured in a crane collapse in New York around 8:30 this morning. The accident took place on Worth Street near Church Street. The accident occurred when a  massive construction  crane whose boom extended 565 feet high collapsed on a row of park cars.  The accident was caught on video by Glenn Zito, a construction worker  who was on the upper floors in a building across the street. Glenn and two of his colleagues had just been ordered to stop to work on the upper floors because the wind was too strong. He was on his way down when he capture the below video.
According to FDNY, 38 year old David Wichs had just exited from his car when the crane crashed on him and killed him. Mr. Wichs was an outstanding young man who immigrated from Czechoslovakia as a teenager, graduated from Harvard and worked in the financial industry. He lived with his wife in Manhattan on the upper west side. He was said by friends to be an extremely decent man.   Still in the car was 73 year old Thomas O'Brien who suffered head laceration but survived.  Another victim, 45 year old Dawn Kojima suffered leg injury and another person suffered minor injury after being hit by debris.
This morning the wind was blowing at more than 20 mph and it was snowing. The crew had suspended work and a decision was made to lower the crane to a more secure level. The accident happened as construction workers were lowering the crane's boom in order to move it into a safe and secure position .
The crane was inspected yesterday by the NY Department of buildings after workers extended to boom length to 565 feet. The extension was reviewed and approved by the DOT.  This morning because of the heavy winds the crew decided to lower the crane for safety reason. Apparently part of the crew was directing pedestrians away from the street as the crane was being lowered.
The crane belongs to Bay Crane, a Long Island company. The crane operator, 56 year old Kevin Reilly, was cooperating with investigators to determine the cause of the crash.
Shortly after the collapse, Mayor de Blasio held a press conference during which he warned about the dangers of  a gas leak. Con Edison crews were on location and blocked the area.  A main gas line that feeds the neighborhood was cut as a precaution. The streets will most probably be closed to traffic for a few days. See article in New York Times.