Record number of car accident deaths in New York City during the month of May
1 bicyclist, 15 pedestrians, 11 motorists and 3 passengers lost their life in crashes in New York City last May. That is a total of 30 fatalities. Since Vision Zero started in 2014, this is the first time that such a high number of traffic accident fatalities were recorded during a month of May.  Last year because of the Covid-19 lockdown, only 5 fatal crashes occurred in May and during the previous years respectively, 18, 13, 11, 18, 28, 25 and 15 people died in NYC traffic accidents in May 2019, 2018, 2017, 2016, 2015, 2014 and 2013.  Since the beginning of  the Covid-19 crisis, the de Blasio administration seems to have given up on all the efforts deployed during Vision Zero and the recent traffic accident fatality numbers are similar to the numbers reported during the pre-Vision Zero era.

4,927 people were injured in crashes in New York last May compared to 2,437 during the Covid-19 lockdown in May 2020 and 5,554 in May 2019. The number of car accident injuries last May is a little bit lower than what it was during May 2016, 2017, 2018 and 2019.
While looking at fatalities by category of road users, pedestrians and motorists accounted for the majority of the fatalities last May. Bicyclist fatalities have been lower than usual and passenger fatalities remained somewhat stable.  It is the first time since 2013, before Vision Zero started, that road fatalities in New York City are above 25 for two months in a row.  Over the last 12 months, monthly traffic accident deaths in New York have been 5 times over 25. Even in 2013, before Vision Zero started, monthly auto accident deaths only went 4 times over 25 during the entire year.

New York car accident injuries have been lower than usual and remained below 5,000 for the last 12 months. However they have been gradually increasing since last January. Motorists are the road users that suffer the most injuries in crashes. 2,331 of them were injured last May as well as 1,421 passengers, 561 cyclists and 614 pedestrians.

Monthly pedestrian deaths in New York in May reached 15 for the second consecutive month. The last time monthly pedestrian deaths in New York were 15 or above was in December 2019. While the pedestrian deaths remain on a declining trend, the recent numbers are preoccupying. Reducing pedestrian fatalities has been one of the pillars of Vision Zero over the last 7 years. It would be a shame that all these efforts to protect communities would not continue to be pursued.

While pedestrian deaths have been higher than usual, pedestrian injuries were lower than usual. While most Covid-19 restrictions have been lifted, the city remains less busy than usual as overseas tourists, for example, are still not allowed to enter the United States. 614 pedestrians were injured in crashes last May compared to 538 in May 2019 during the Covid-19 crisis. Before the Covid-19 crisis, pedestrian injuries during the month of May would usually oscillate between 800 and 950.

More than ever in New York City, people are using bicycles to commute from one point to the other. Bicycle sales have been soaring over the last years and Citi Bike continues to expand its bike rental network in all the boroughs.  The city continues to develop infrastructures to protect cyclists but this doesn't mean that it is not dangerous to bike around. Many areas remain dangerous and accidents are common. Last May, a record number of cyclists were injured. 561 people were injured in bicycle accidents that month compared to respectively 320, 433, 430, 410, 471, 381 and 395 in  May 2020, 2019, 2018, 2017, 2016, 2015, 2014 and 2013.

One cyclist died last May, the second since the beginning of the year. The number of cyclist deaths for the period of  January 1st to May 31st has been low compared to the same periods of previous years. Last year, 4 people died in bicycle accidents during that same period and 10 the year before.

After a decline during the lockdown, truck accidents in New York City are back above 600 monthly. 660 truck accidents were reported by the NYPD last May. The accidents reported to the NYPD were mostly accidents involving injuries as since April 6, 2019, collisions that do not result in injuries are not required to be reported to the police. This doesn't mean that you can leave the scene of the accident without exchanging information. Drivers involved in a collision without injuries must exchange driver's license information, insurance, and vehicle registration. If the cost of damages are estimated to be higher than $1000, an accident report must be filed with the Department of Motor Vehicles within 10 days.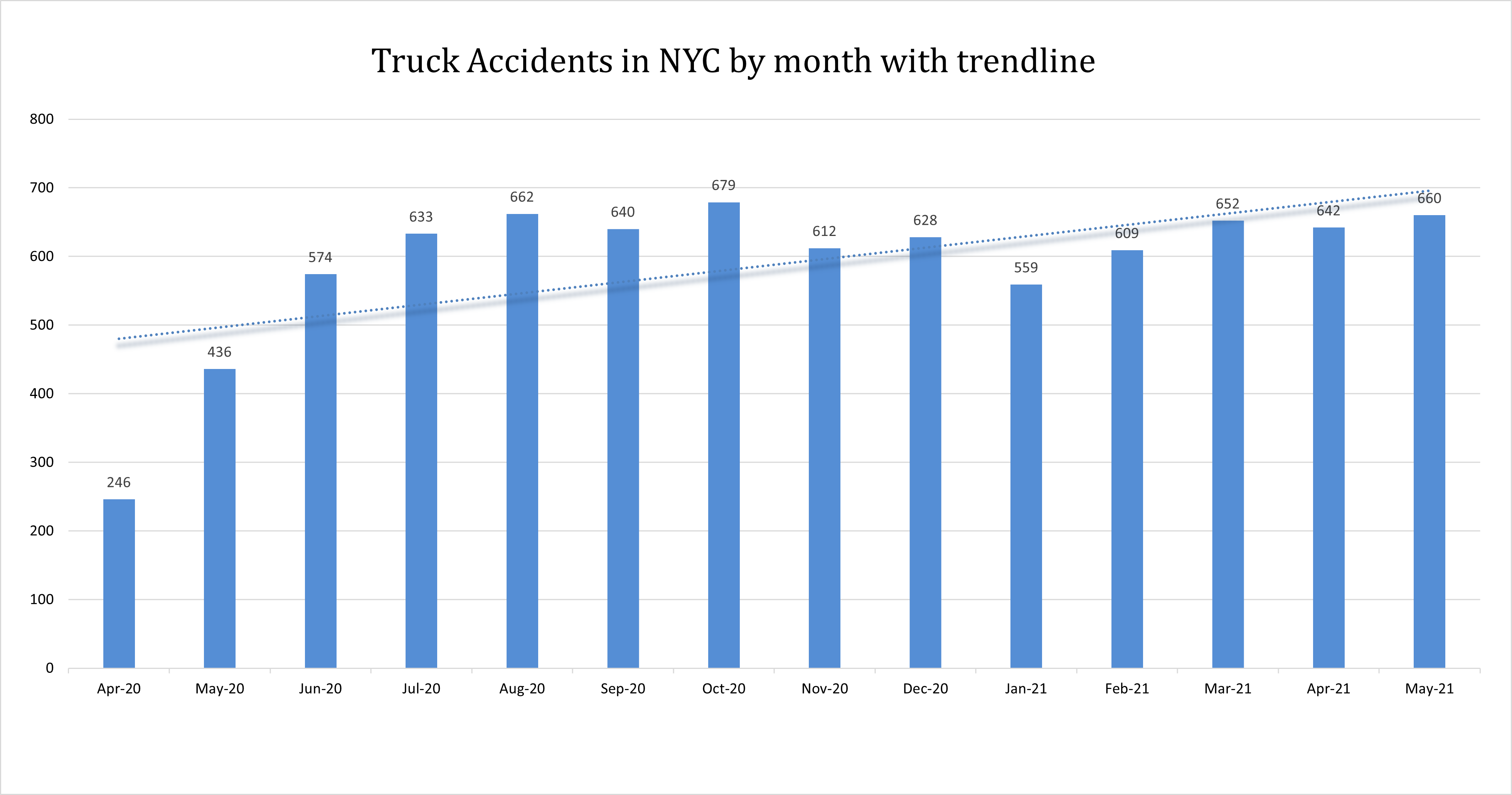 Bus accidents are at their highest since the Covid19 lockdown a year ago as activity in the city is picking up. There were 292 bus accidents reported to the NYPD last May compared to 269 in April and 105 during the lockdown last May. Again, because of the new NYPD policy, we can presume that these accidents resulted at least in one injury.