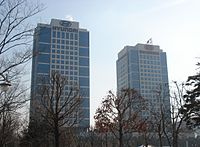 Owners of selected models of Hyundai Genesis cars as well as other electric models have been warned by Hyundai that their cars were at risk of catching fire and should be parked away from home and other structures or flammable material until they repair their vehicles.
Models of Hyundai Genesis sold in 2015 and 2016, Hyundai Genesis G80 sold between 2017 and 2020 and Hyundai Genesis G70 sold between 2019 and 2021 might have defective anti-lock brake system modules that could malfunction internally and cause an electrical short resulting in engine compartment fire while driving or during parking. Owners of these vehicles must get them repaired and make sure to park them away from their home or other structures that might catch fire until repairs are done.
Hyundai also issued another recall for fire on some of its electrical vehicles. Some 2019-2020 Hyundai Kona Electric and 2020 Hyundai Ioniq Electric vehicles might have defective battery cells causing internal electric shorts that can result in a fire while driving, parking or charging the battery. The owners of these vehicles have also been asked by Hyundai to park their vehicle away from anything that could catch fire until the defect is repaired.  Hyundai is facing similar problems in Korea and vehicle owners are not happy about the manner Hyundai has been handling the repair according to a recent article in Reuters .