The National Safety Stand-Down to Prevent Falls in Construction is this week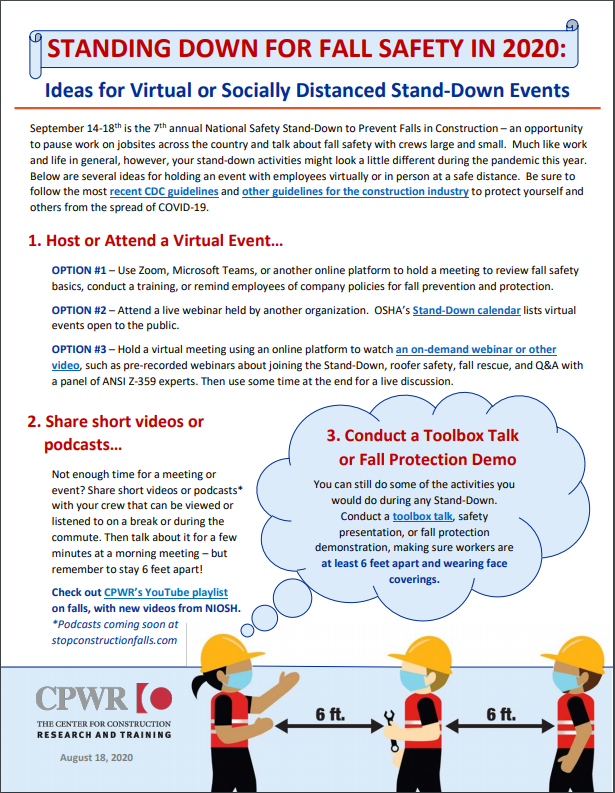 Falls in construction are the main cause of construction worker deaths and injuries. In the US, every year  around 200 workers die and 10,000 suffer personal injury after they fell on a construction site.
To prevent and reduce fall accidents, every year since 2012, the Center for Construction Research and Training (CPWR), the Occupational Safety and Health Administration (OSHA) and  the National Institute for Occupational Safety and Health (NIOSH) are joining forces annually for a one week national campaign asking construction workers and their supervisors all over the nation to conduct a stand down focusing on fall prevention.
During a stand down, workers pause work and  participate in discussions or activities related to fall prevention and safety policies
Last year, more than 3,435 stand downs were organized by construction companies reaching out to 457,251 hard hats. In the State of New York 263 construction companies participated in the 2019 stand down reaching 23,967 construction workers. New York as well Texas, California and Florida had the highest number of stand-downs organized among all the states. All types of companies of all sizes participated including residential construction, commercial construction, industrial construction, mining, general industry, highway, government and more.  Activities during the stand-down included meeting and talks, training, demos, toolbox talks, presentations, free lunch and distribution of hardhat stickers.
This year the initial 2020 stand-down that was planned in the spring was postponed because of the coronavius pandemic hitting the country and requiring many construction sites to shut down. The pandemic is not over yet but activity restarted on most construction sites with construction workers required to follow strict COVID-19 safety protocols.  The stand-down activity will also be affected and employers will have to find new ways to conduct fall safety events while keeping their workforce safe from a coronavirus infection. The CPWR prepared special documents providing ideas on how to hold a safety stand down safely during the pandemic. The document can be found here