Traffic Accidents Injuries and Deaths in NYC: the status after 3 years of Vision Zero iniatives
Vision Zero was launched in an attempt to reduce pedestrian and bicyclists deaths in NYC. However, in an unexpected twist, the program primarily helped in curbing motorists deaths. 
Back in 2013 before Vision  Zero started, 286 people died and 54,818 suffered personal injury in motor vehicle accidents in New York City. Among the 286 deaths were 168 pedestrians, many of them children and elderly. In New York City, car accidents have been the leading cause of child deaths for many years. According to statistics, two thirds of the children involved in fatal accidents were child pedestrians being struck by cars. Elderly are also at higher risk of being struck by cars in New York City, especially after sunset when the visibility is reduced.
When Bill de Blasio became Mayor on January 1st 2014, he pledged to change this situation and provide safe streets for New York families.  Vision Zero was launched for this purpose in January 2014 and is still ongoing. The program includes various initiatives such as speed limit reduction, dangerous streets re-design and  more forceful prosecution of traffic violations. Since the program started, the total number of traffic deaths gradually declined from 286 in 2013 before the program to 250 in 2014, 235 in 2015 and 223 in 2016. From the beginning of 2014 to the end of 2016, the total number of traffic deaths declined by 22% in New York City.
By category, over the last 3 years, the number of drivers dying behind the wheels in New York City declined by 36%. The number of vehicle passengers dying in crashes declined by 26%. The number of pedestrian deaths declined by 20% and the number of bicyclists deaths increased by 63%.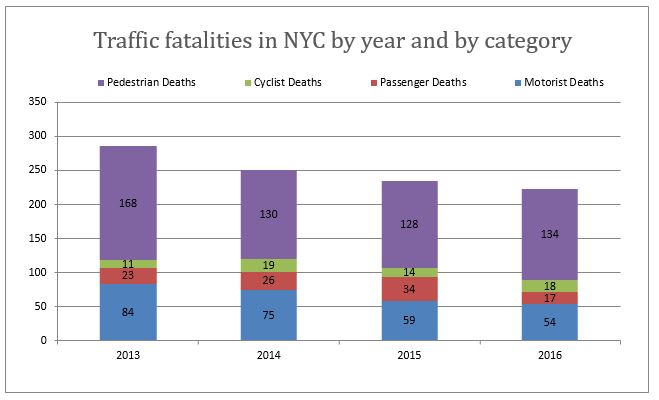 While less and less people are dying in motor vehicle crashes in New York City, the total  number of people injured in such crashes reached a new high in 2016. 58,526 people were injured in traffic accidents last year compared to 51,255 in 2015, 50,886 in 2014 and 54,818 in 2013. After an initial decline of 7% during the first year of the Vision Zero Program, traffic injuries were slightly higher in 2015 than in 2014 but still 6% lower  than in 2013. They jumped higher in 2016. 7% more people were injured in auto accidents in 2016 than in 2013. The rise of injuries occurred mostly in the drivers (motorists) category with a 40% increase in injured drivers from 2013 to 2016. Bicycle accident injuries also increased by 12% during the same period of time. Despite being higher in 2016 than in 2015, both the number of passengers injuries and the number of pedestrian injuries globally  declined over the last 3 years. 13% less passengers and 11% less pedestrians were injured in traffic accidents since Vision Zero started.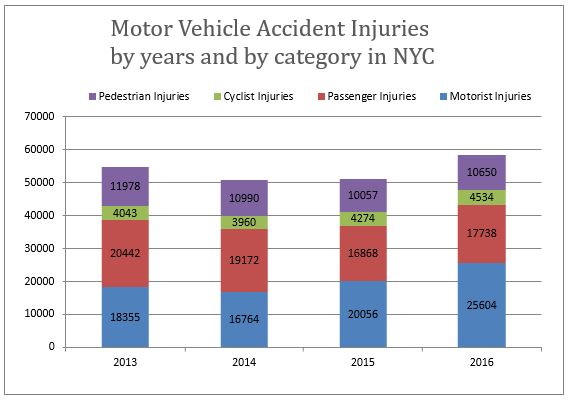 Both pedestrian injuries and pedestrian deaths are lower now than before Vision Zero started. Pedestrian fatalities declined the most during the first year of  Vision Zero. 120 pedestrians died in 2014, 48 less or 23% less than in 2013.  As new Vision Zero  initiatives were launched and streets were redesigned to better protect pedestrians, the number of  pedestrians was expected to decline further in the following years but it didn't. It stayed below the number of 2013 but was slightly higher in 2015 and 2016 than in 2014. 128 pedestrians died in 2015, 8 more than in 2014. Last year 134 of them died, 14 more than in 2014 and 8 more than in 2015.
Pedestrian injuries steadily declined during the first two year of Vision Zero but increased again in 2016. There were 988 less pedestrians injured in 2014 than in 2013 and 933 less in 2015 than in 2014. Unfortunately there were 593 more pedestrians injured in 2016 than in 2015.
Globally, 2016 wasn't a such a good year for pedestrians. Both pedestrians injuries and deaths were higher than the previous year. This is a reminder that not only all Vision Zero efforts undertaken at the beginning of the program need to be continued but also even more should be done to protect pedestrians from dangerous accidents.  (click on graphs to see them enlarged)

As part of his effort to reduce gas emissions in the city, Mayor de Blasio has been encouraging New Yorkers to use their bicycles to commute to work.  Under the umbrella of the Vision Zero program, new bike lanes have been created and continue to be developed all over the city. Additionally dangerous streets are being redesigned to make them safer for bicyclists and pedestrians.
However despite these improvements the number of people injured or dying in bicycle accidents is on an upward trend. Since 2013, despite Vision Zero efforts, the number of bicyclists killed in traffic accidents increased by 64% and the number of bicyclists injured in accidents by 12%. Bicyclists advocates have been complaining that the NYPD is not doing enough to protect bicyclists from reckless drivers. They also complained that when an accident happens the police make it a habit to put the blame on the bicyclist. Much more needs to be done to protect NYC bicyclists from dangerous accidents.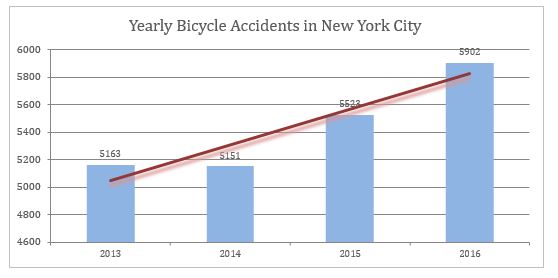 The biggest decrease in traffic deaths since Vision Zero started occurred among the drivers category. The number of drivers dying in auto accidents in New York City declined every year. From 84 in 2013 to 75 in 2014, they went down to 59 in 2015 and to 54 in 2016 for a total decline of 36%. While Vision Zero seemed to have been contributing in the reduction of drivers killed in accidents, it didn't help in curbing either the total number of motor vehicle accidents in New York City nor the number of drivers injured in these accidents.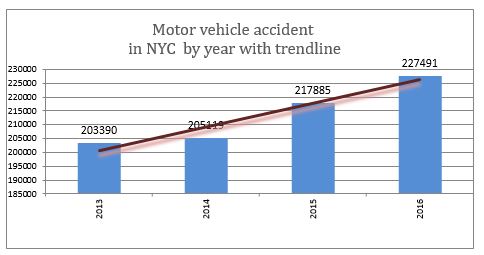 17 passengers were killed in traffic accidents in 2016, half the number of 2015. So far no real trend is emerging in passengers deaths. The number of passengers injured declined gradually from 2013 to 2014 and from 2014 to 2015. It increased slightly again in 2016 compared to 2015 but the the total number of passengers injured in car accidents in New York City in 2016 is still lower than in 2014 and 2013 and the trend stays on the downside.

Bus and truck accidents have also been on the rise since Vision Zero started. The number of truck accidents more than doubled between 2013 and 2016. According to the Port Authority of New York and New Jersey, 90% of the freight entering New York arrives by trucks and it will increase by an estimated 37% over the next 20 years. The recent boom in the construction industry as well as more and more New Yorkers shopping on the internet and having their goods directly delivered at home have contributed to the increase of truck traffic in the city. Obviously, more truck traffic means more risk of truck accidents.