Will the new bike lane near 59th Street bridge prevent bicycle accidents?
32 people have been injured in bicycle accidents on Second Ave between 59th street and 68th street in Manhattan, with many accidents occurring at the intersection of 59th street and Second Avenue which is the entrance of the 59th Street Bridge.
Until recently, bicyclists who were riding South on Second Avenue used a protected bike lane until 68th Street and then had to ride through a dangerous gap in front of the 59th Street bridge entrance to then go back on the protected bike lane. The DOT was supposed to fill the bike lane gap last summer but the installation was delayed to this spring. The work is now almost completed.
This is good news for the estimated 3000 cyclists who use the Second Avenue bike lane and the estimated 6000 people crossing the Queensboro bridge by bike every day.  The changes include the addition of a bike lane that would be protected by cars during off-peak hours and that would turn into a curbside buffered bike lane during rush hours. A pedestrian and a bicycle crossing were added at the entrance of the Queensboro bridge to allow pedestrians and cyclists to cross on the East Side of  Second Ave.  An island and a tip extension were also built to shorten the pedestrian and bicycle crossing.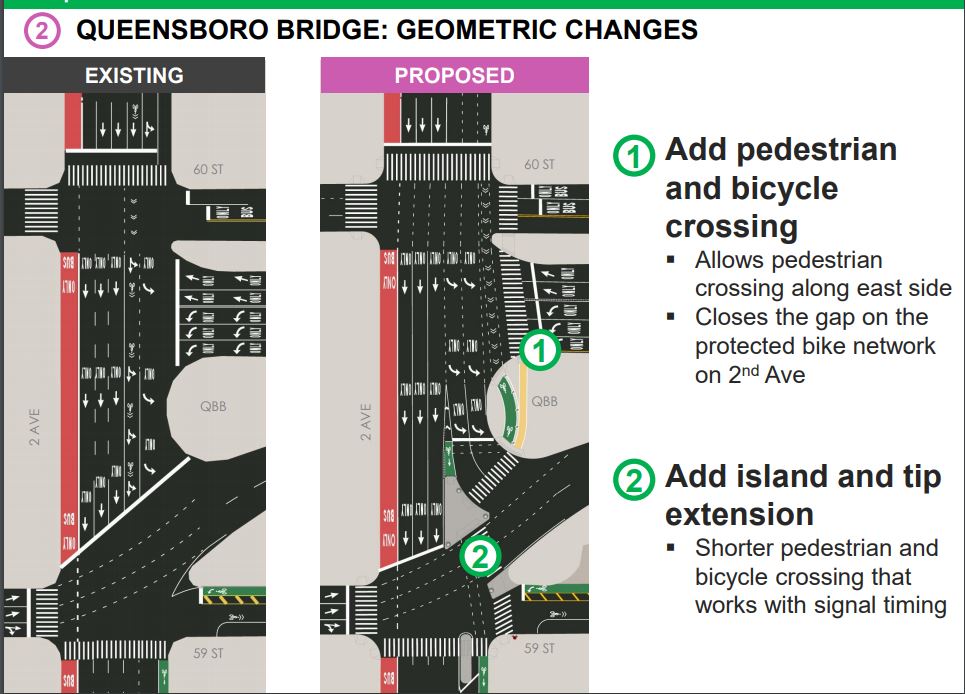 While the changes may look good on paper, cyclists will have to get used to the new design that swerves through two islands while passing the entrance and the exit of the bridge. As seen on the CBC News video below, some cyclists are still confused and don't seem to have even noticed the new design of the bike lane. Other cyclists are just wondering why the bike lane was not installed on the other side of the road near the bus lane. The closing of the bike lane gap is globally positive for bike commuters however the intersection stays dangerous even with  a dedicated bike lane.