Young man in critical condition after falling from defective fire escape in Brooklyn, NYC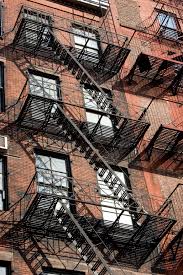 A 23 year old man suffered critical injury after he stepped on a defective fire escape and fell 4 stories to the ground. 23 year old Chad Miller was about to move to a new apartment on Bedford Ave near Lefferts Boulevard in Brooklyn, NYC. He was hanging out with a friend on the fire escape outside his new place when the railing broke. Chad fell 4 stories and was critically injured. According to his dad, his son is still in a coma.
The owner of the building  received a violation for failure to maintain the fire escape. It could cost him up to a $5000 penalty. There is also a good chance that the family of the victim files a premises liability lawsuit against him. In 2011 we settled a case for $5,000,000.00 when a fire escape landing on which a man was standing on collapsed causing him to fall approximately 30 feet to the ground. Discussion of case here.
Read more in the NY Daily News and here 
Picture: NYC fire escape from Wikipedia