Another pedestrian died in NYC despite the "Dusk and Darkness" safety campaign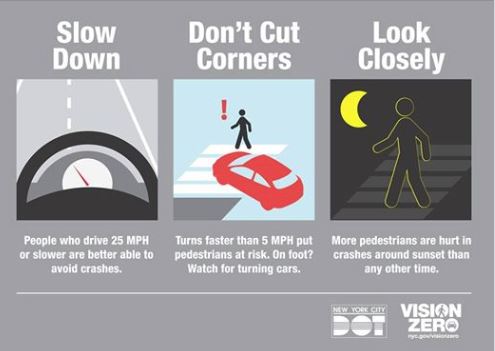 The NYPD announced last week that A NYC pedestrian died from his injuries the day after an accident that occurred in the Bronx on November 7th around 6:30 pm.  52 year old Alvaro Gutierrez was crossing Southern  Boulevard at Elsmere Place when he was struck by a minivan.  Gutierrez who was hit in the crosswalk, flew in the air and landed on the roadway. He was transported to the hospital where he died the following day. The minivan driver wasn't charged.
Winter is the worst season for pedestrians
Statistics show that, in New York, after daylight saving time ends, pedestrian accidents increase dramatically, especially during evening hours. The months of November to March are the deadliest for New York pedestrians. To boost awareness about this situation and encourage drivers to drive safely the city has been deploying its 'Dusk And Darkness' Vision Zero Safety Initiative for the third consecutive year.
This year's campaign was announced two weeks ago in Time Square while all over the city as part of the "Day of Awareness"NYPD agents and DOT representatives were engaging with drivers and educating them about dangers of driving with lower visibility and encouraging them to respect the 25 MPH speed limit and to yield to pedestrians. Ads have been running since and will still continue to run until November 21st on twelve radio stations. The NYPD will also increase its street presence and target drivers who are speeding, not yielding to pedestrians or drunk driving.
During the Time Square launch of the Dusk and Darkness campaign , officials also announced the new program "Alive at 25" targeting young drivers. In  New York, drivers aged 18 to 25 year old represent 10% of all drivers in the city but 20% of those who died in car accidents.  "Alive at 25" is funded by the National Council It is an education program that will be offered to 2500 students at 10 public high schools in New York City. The program puts student through real life scenarios of situations when  they are driving a car or are a passenger.
Another announcement was the crack down on private garbage trucks that we wrote about in a previous blog
Read more about the Dusk and Darkness Initiative