Auto accident deaths and injuries at their lowest in February
Pedestrian and cyclist injuries and fatalities were lower than usual last February and so were motorcyclist, bus and truck accidents.
Traffic Accident injuries reached a record low in New York City in January and February. While February car accident injuries always reach a yearly low, the number of NYC car accident injuries was at its lowest since Vision Zero started. 2,503 people were injured in traffic accidents in New York City compared to 3,028 a month earlier and 4,006 in February 2020. The number of traffic accident injuries mostly dropped over the last 12 months because of the Covid19 crisis that affected the City and slow down activities. (click on graphs for full sizes)



After reaching annual record highs over the summer of 2020, the number of New York auto accident deaths also declined and stabilized to numbers somewhat similar to previous years despite the slowdown. 10 people died in traffic accidents last February compared to 13 in January and 17 in February 2020.  Since Vision Zero was launched in 2014, the number of traffic accident fatalities in February has been oscillating between 17 and 10 with 10 last month being the lowest. Fatalities were mostly pedestrian fatalities.


7 pedestrians died in February 2021, compared to respectively 11, 7, 9, 7, 11, 11, 8 and 13 in February 2020, 2019, 2018, 2017, 2016, 2015, 2014 and 2013. While this number is one of the lowest for the month of February over the last 9 years, it can be explained by the significant decline in pedestrian activity in the city.

Pedestrian injuries in February are also reflecting the slowdown in activity with 372 pedestrians injured in crashes in February. The only time this number was lower than this, was during the first full month of lockdown in April 2020.

149 bicycle accidents were reported by the NYPD in February 2021, compared to 287 in January and 277 in February last year. While this number is really low compared to the year before, it was not a record low.
135 people were injured in the 149 bicycle accidents mentioned above compared to respectively 232, 200,201, 173, 81 and 94 in February 2020, 2019, 2018, 2017, 2016, 2015, 2014 and 2013. While significantly lower than other months the number of bike injuries sustained last month is still higher than what it was in February 2013, 2014 and 2015, an indication that  people continue to ride bicycles in the city during wintery conditions. Therefore it is more important than ever that bike routes also be in proper condition for cyclists during the winter.
For the first time since March last year, no cyclist fatalities were recorded during the month of February. After some really bad numbers at the end of last year, the monthly number of cyclists killed in accidents stayed low at the beginning of this year with one cyclist dying in January. The global trend of cyclist deaths is still on the rise.

The most seasonal data are the motorcycle accident statistics. February was not a good month to ride a motorcycle in New York. Snow and extremely cold weather prevented many bikers from using their motorcycles. As a result the number of motorcycle accidents recorded last February was at its lowest since 2015 for the month of February. 29 motorcycle accidents were recorded in February 2021 compared to respectively 79, 63, 78, 68, 55, 17, 27 and 36 in February 2020, 2019, 2018, 2017, 2016, 2014 and 2013.

234 bus accidents were reported by the NYPD in February compared to 216 in January and 472 for the same month a year earlier. Bus accident data are difficult to compare from one year to the other as since March last year the NYPD announced that it would stop sending cops to the scene of fender benders or small accidents. Therefore it is difficult to understand if the drop in bus accidents from one year to the other is related to this new NYPD policy or to the decline of  activities in the city related to the covid19  crisis. Probably a little bit of both.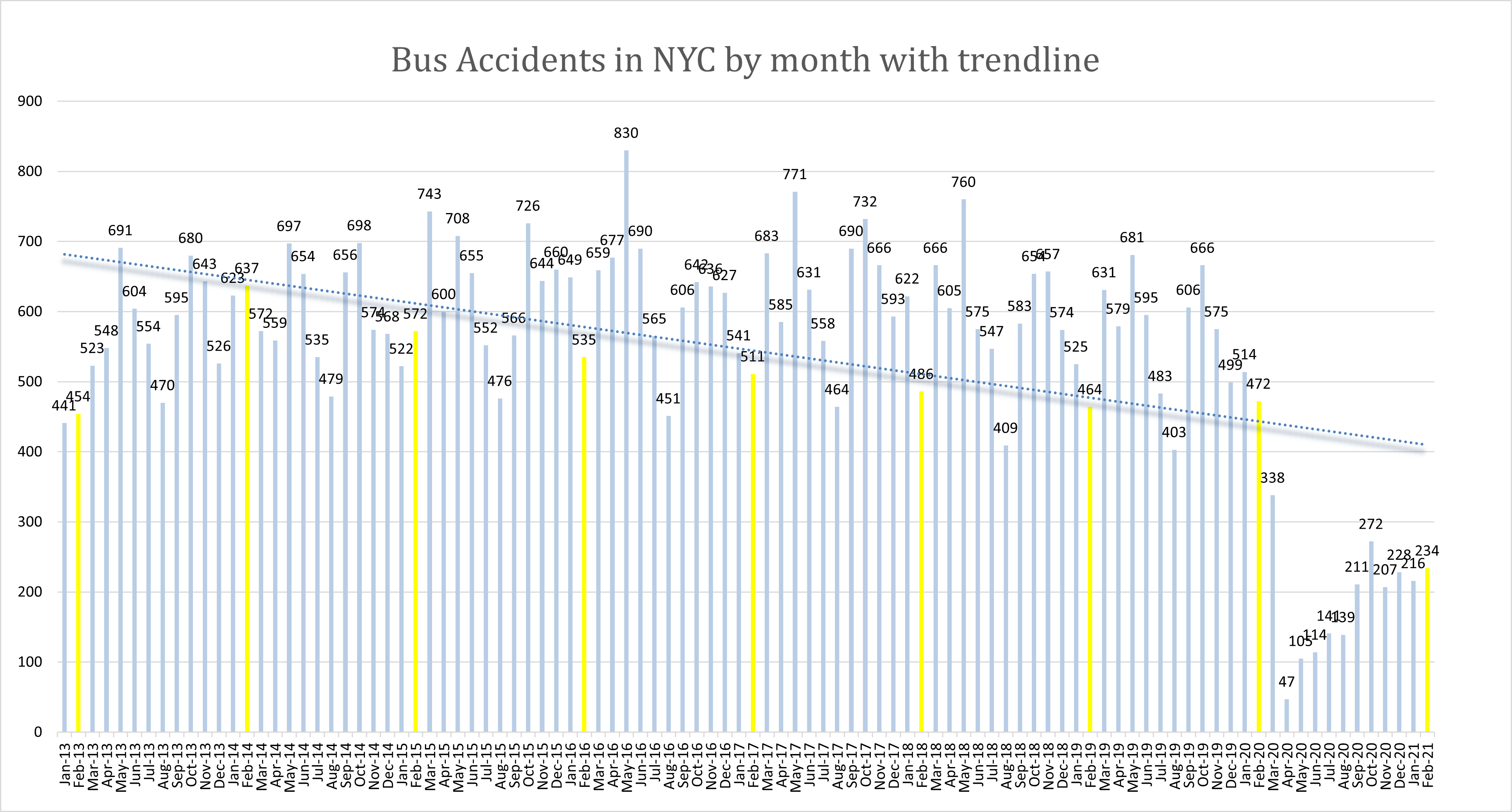 The same can be said about truck accidents. The NYPD recorded 609 accidents in February compared to 559 in January and 1086 the same month a year earlier.