Bicyclist critically injured in NYC truck accident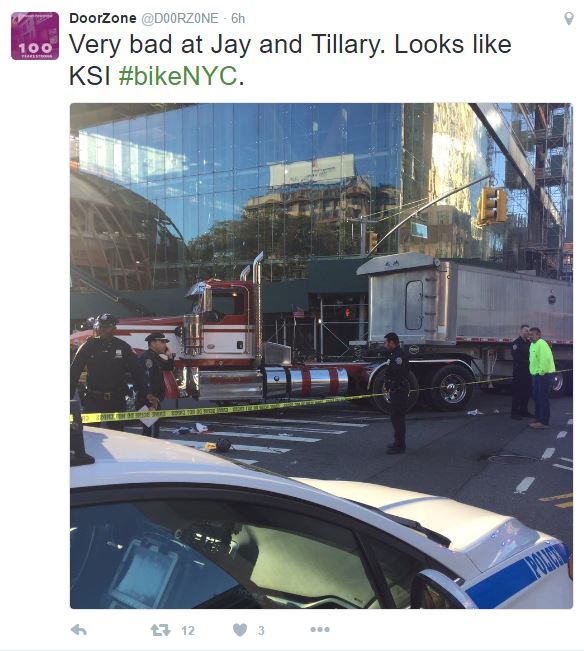 A bicyclist suffered critical injury after being struck by a tractor trailer truck in New York City.  The accident happened yesterday morning around 7:15 am at the intersection of Jay Street and Tillary Street in Brooklyn. According to Streetblog the truck struck the bicyclist while making a right from Jay onto Tillary. The victim, a 35 year old man, got stuck under the truck.  His left leg was completely mangled and  he suffered massive head trauma according to the NY Daily News.  He was transported to the hospital in critical condition.
The truck driver stayed at the scene of the accident and hasn't been charged. The truck was a tractor trailer truck belonging to Mountain Man Sand and Gravel. The truck was on an authorized truck road however it was larger than 55 feet long. Trucks larger than 55 feet long are only allowed in New York City if they transport material that is "non-divisible" and have special authorization. In the case of this accident, the Gothamist indicates that the truck was a Mac trailer Dump truck.  There is a high probability that the truck was not legally authorized to drive where the accident happened. This is the second time this year that a bicyclist has been struck by an over-sized truck driving in a pedestrians and bicyclists area. In April, a cyclist died after being struck by a tractor trailer truck which was illegally driving in a Brooklyn residential area (see previous blog).
Jay Street is considered one of the most dangerous streets for bicyclists in New York City. Recently, the DOT started to remodel the street and add protected bike lanes. However at the intersection of Jay and Tillary protective bike lanes are still nonexistent. Since the beginning of the year, 3 people were injured in bicycle accidents at this intersection according to Vision Zero Map. Also according to data from Transportation Alternatives there were 41 pedestrian and bicyclist accidents at this location between 2002 and 2011.