NYC construction worker killed in forklift accident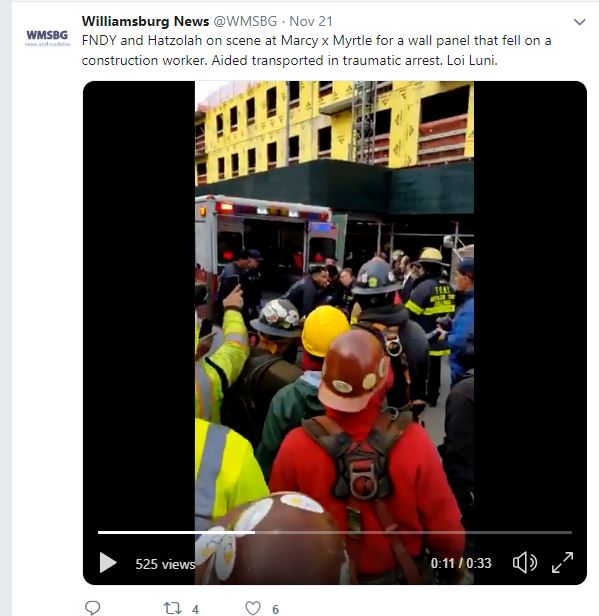 A hard hat died in a forklift accident in New York City last month. 44 year old Over Paredes was working on the construction site of a six-story condo located  at the corner of Myrtle Avenue and Marcy Avenue in Brooklyn when a piece of metal-framed wall fell on him.
The accident occurred on the rooftop of the building during a day of high wind.  The large piece of sheet metal was extremely heavy and was being hoisted by a manual forklift. During the lifting operation, the forklift that, according to a worker, was lighter than the piece of wall, was knocked down onto its side by a gust of wind and the huge piece of wall fell on Paredes.  The construction worker died at the scene of the accident despite all the efforts of the EMS to try to rescucitate him.
The crane operator had previously refused to hoist the piece because of the high wind
The manual forklift was not supposed to be on the construction site and wasn't authorized by the DOB. The contractor for the building, Empire ID construction, had approval to use an engine-powered forklift  but not a manual one. It was also unclear if  the man operating the forklift was qualified to operate this type of equipment.  Additionally, according to the family of  Over Paredes,  the manual forklift might have been used to hoist the piece of metal to circumvent a decision by the crane operator not to hoist the piece of wall with the crane because there was too much wind. The two sons of Over Paredes were also working on the construction site. One of them had to pull his dad out of the piece of equipment. He told the media that his father should have never been working on the roof that day because the wind was much too strong.
The Brooklyn Borough President Eric L. Adams called for a comprehensive city investigation following the accident that killed the construction worker.